2013-2014 Homeschool Curriculum and Plans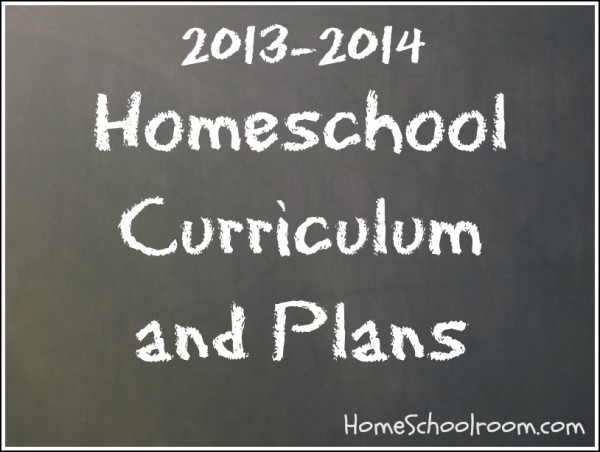 I continue shaping my homeschool philosophy and fine-tuning my methods as I educate my children.  Before I go into my specific choices, these are the books that I've read over the summer that have had the greatest impact on my plans for this year.
This post contains affiliate links, but these are products I actually use and love.
Ruth Beechick's Books The Three R's (Grades K-3) and You Can Teach Your Child Successfully (Grades 4-8): I devoured these immensely readable, practical books.
Educating the Whole-Hearted Child by Clay and Sally Clarkson: This book is loaded with information and required digesting in pieces, but helped with the overarching purpose of all this work of homeschooling and the general family life we're trying to create.
These books align with much of the Charlotte Mason literature-based philosophy that appealed to me since we started homeschooling, but have given me the confidence and practical ideas for applying those ideals in a real-life modern-day home(school).  Instead of filling my shelves with expensive curriculum I'll use temporarily, I will fill our shelves with terrific books that we can enjoy and turn to again and again for instruction and inspiration.  So we'll use little less curriculum and more living books; less elaborate activities to go with our studies and more time-tested techniques like copywork, dictation and narration.
Without further ado, here are my plans for our third year of homeschooling with my 11 year old daughter and almost 8 year old son:
Language Arts
Copywork and Dictation
I'll use this powerful, simple tool to work on many aspects of language arts.  No fancy program needed: I'll choose sentences (or paragraphs) from books we're using, meaningful scriptures, and quotes from people we're studying. We'll go over the sentence(s) together, discussing interesting words or grammatical features.  Each of my children will use a simple lined notebook for our lessons.  Ruth Beechick's books provided information on the progressive steps of copywork and dictation as skills grow.
Spelling
I'll use a personalized approach to spelling (detailed nicely in both of Ruth Beechick's books and A Charlotte Mason Companion).  My modern day tweak is to add their personalized lists into the Spelling Bee app for practice and testing.
Writing
We already keep journals where each child and I write notes back and forth to each other.  I'll do a whole post on this sometime–it's been a joy to me and one of our best writing practices.  We'll do more creative writing in the form things like a Christmas newsletter and letters to friends, and use ideas from my Language Arts Pinterest board.
With my daughter, and possibly my son, too (though he's a bit young) I plan to work through lessons in creative writing shared by Ami from Walking by the Way and Sarah from Small World at Home.  They both posted wonderful lessons they used in a co-op setting and I think we'll have lots of fun with this at home.
The books I read over the summer left me feeling a bit empowered to not use a formal writing curriculum.  However, nonfiction writing and essays are not the type of writing my daughter naturally gravitates to, so I will consider a formal curriculum to use part time to fill in gaps.  We worked through Writeshop Junior D  and I may jump into WriteShop I after the new year.  The creative writing lessons should keep us quite busy until then!
I do know that we will not use a formal grammar curriculum, but will just have a good grammar reference book that she learns to use well and work on grammar within her writing (not in a workbook).
Reading & Literature
My son's biggest goal is to increase his reading skills and my plan for that is very simple: he will read to me every day.  We've been doing this over the summer, and not only is he improving a lot, he is really seeing the joy in reading.
I will prepare a literature list for my daughter from Honey for a Child's Heart and Read for the Heart.  I'll provide more choices than she needs to give her some options, but require reading a minimum of one chapter each day.  She can choose her free-reading books (with oversight from me).
My friend and I will hold a very informal book club of classic literature.  Our families will read the books and meet to discuss them.
Math
Teaching Textbooks is the love of our math life.
My daughter will begin Math 6.  By the way, one of my fears when we switched was about its thoroughness and test scores dropping because of comments we'd read online.  After working through all of Math 5 and our standardized tests I can say my fears are relieved and we are happily continuing with this computer-based program.
My son will start Math 3.  I am thinking we may need to break up lessons if they are as long as the Math 5 lessons were, but I have no problem letting him listen to the lecture at one sitting and doing the problems the next time.
With both children we also like to play with math through cooking or other real-life math and reading living math books.
History
After two years of American History (what fun we had!) it's time to move into Ancient History.  We'll use Story of the World Volume I to keep us on track, adding in a lot of quality literature (using selections from the SOTW Activity Guide and All Through The Ages) and some extra hands-on fun from the Activity Guide only when it's easy and educational.  Remember, I've learned my lesson about over-planning.
Simple narration through notebooking will be how my children process and record what they've learned.  I won't be searching for fancy notebook pages: simple lined or unlined paper, or one of a few general notebooking pages I have available in a binder for them to choose from.
Science
We won't use a formal curriculum but we will incorporate lots of science.  I want to leave time to go with the flow because my son is loaded with science questions and curiosity.  We've worked a lot on biology so it's time to get messy with chemistry and have fun with physics.  I have a multifaceted plan:
I want to pick up some Janice VanCleave books (we have biology but I want to buy physics and chemistry), and we'll try a free Susan Kilbride unit study on molecules (with the idea of purchasing her unit study book if I like the freebie).
I bring our literature-based philosophy into science, too: we check out science books each time we visit the library, and I plan to read science books related to our history studies (All Through the Ages has suggestions for books on the history of science).
We love fun science shows like Beakman and Mythbusters (both available free on Netflix) and extras like Science Friday videos (on Youtube).
And don't forget a hallmark of a CM education: nature study.  I use the Outdoor Hour Challenges and other ideas from Barb's wonderful blog and newsletter, use the Handbook of Nature Study as our spine, and jump into as many interest-led nature topics as we can (which is a little harder in January in Maine).
We'll use the same simple tools of narration through notebooking that we use in history when applicable.
Art
This has been sorely neglected as I tended to plan large, elaborate projects.  But this year I vow to be hands-on in art more regularly and here is how I plan to follow through:
Drawing: I want to work on the simple art skill of drawing with my children.  I often overlooked drawing feeling it was too easy or simple for me to focus on.  But during many of our studies (history, science, nature) they use drawing to record observations.  Not to mention that when we sit to draw together it is so relaxing!  So I'm going to actually make drawing a subject this year (but be cautious not to sap the fun out of it).  I'll use Drawing with Children and Mark Kistler's Draw Squad for instruction.
Other than drawing I plan to get out art supplies once a week and just tell the kids to go for it: paint (watercolors, tempera, acrylic), pastels (chalk and oil), or clay (we adore Sculpey).
I'll also aim to do a lesson out of Storybook Art, Art Treasury, and my Art & Artist Study Pinterest board now and then to introduce them to new tools or techniques.
The Extras
I wrote about my plans for Tea Time to fit in the extras that add a lovely element to our homeschool.  During our daily tea time this is what we'll do:
We'll use Harmony Fine Arts Grade 5 plans to go along with our Ancient History studies.  I love how easy it is to incorporate Charlotte Mason style art and music appreciation using Harmony Fine Arts plans.  The Grade 5 plans are a little different than other years but will be extra fun because we'll learn about ancient art and the beginnings of the orchestra.
Mary from Homegrown Learners has made it very easy to incorporate great music in your homeschool with her SQUILT Music Appreciation Curriculum. Using the information from Mary and the technique of Super Quiet UnInterrupted Listening Time to study one great piece of music at a time is easy to implement, even for those of us with no background in classical music.
We enjoy reading poetry aloud and I'll continue with our relaxed style of reading from anthologies.  We'll also sometimes focus on one poet or style of poetry for short periods.  When inspired we might try our hand at writing some of our own!
I adore hymns and the beautiful history and messages within them.  Mary from Homegrown Learners and Judy from Contented at Home shared wonderful ideas for hymn study.
Project Based Learning
My eleven year old daughter is ready for some truly self-directed learning, so I'm leaving room in her schedule for independent project-based learning.  I'm still formulating my full plan, but I'll be using ideas I've gleaned from Cindy at Our Journey Westward and Jamie at The Unlikely Homeschool.
Well, that's is the super long-winded version of a peak into my homeschool plans.  I'm linking up with iHomeschool Network's blog hop for curriculum week.  Hop over to check out other homeschooler's plans and link up your own!