Scheduling Tea Time for the Extras and 10 Tea Time Snacks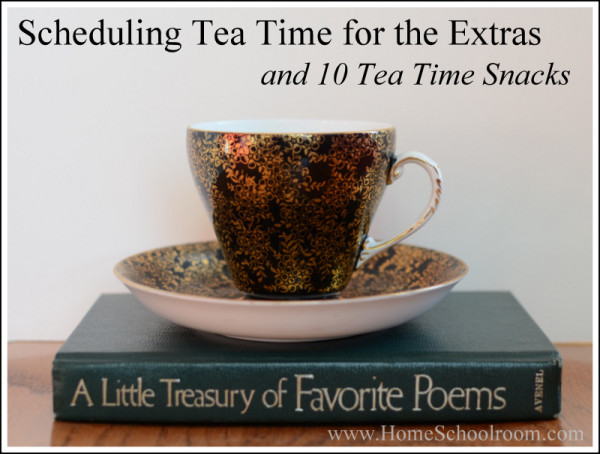 As I've been taking the time to reflect on our last school year and iron out what my goals and plans are for next year one thing I'm really excited to institute is a tea time.  I'm planning to use it as a time to focus on those lovely "extras" that are a hallmark of the Charlotte Mason style education.  We'll sit down together over a cup of tea and a treat and share poetry and fine art and music.
Anytime I read about other homeschool moms setting aside tea time I liked the idea of making it a special time in our day.  Then when I read about Elevenses from Ellen at the Bluestocking Belle I realized the 11:00 time slot would be a good fit for us, too.  It will work better than an afternoon tea-time, because often by afternoon we're either heading to an activity or errands or I'm settling them in for Quiet Time (a daily habit I can't do without).  It also will be a good time to transition between their individual work that starts our day and the subjects we study together.
Step #1 to make this a special time to look forward to in our schedule is having a sweet edible treat.  I'm conscious of it being a treat, but not too unhealthy.  And although I enjoy baking some days are too busy and I don't like to have large amounts of sweet baked goods in the pantry (because then I'm tempted to eat them all day long).  My answer to those problems are baking things I can freeze.  That way we'll only keep out a little for our tea time and it will also give us variety because every few days we can pull something different from the freezer.
From A to Z here are my go-to freezer-friendly sweet treats I plan to keep stocked for our tea time.
#1 Apple Bread
I use the Apple Walnut Bread recipe from Allrecipes.com, minus the walnuts because my kids don't like them.  I just love the rustic nature of this sweet bread with chunks of apple.  I cut the calories a bit by decreasing the oil to 1/2 cup and increasing the applesauce to 1/2 cup.  The recipe yields two loaves.
#2 Banana Bread
This recipe comes from an old Canadian cookbook treasured by my mother.  I made a few substitutions to make it a bit healthier and everyone still asks for the recipe.  This recipe also yields two loaves.
2 cups mashed overripe bananas (5-6 bananas)
1 1/2 cups brown sugar
4 eggs
1/2 cup melted butter
1/4 cup applesauce
1 cup wheat flour
2 cups white flour
1/2 teaspoon salt
2 teaspoons baking soda
1 teaspoon vanilla
Mix bananas, sugar and eggs.  Add butter, applesauce and vanilla; mix well.  Sift together flour, salt and soda.  Add to wet ingredients and mix well but don't over-mix.  Bake at 350 degrees for 45 minutes or until a toothpick inserted near the center comes out clean.
#3 Blueberry Muffins
These Blueberry Cream Muffins from Allrecipes.com are a family favorite.  I use half brown sugar and half white sugar, and also increase the blueberries to 3 cups (you can add frozen berries right to the batter).  It makes 24 muffins so I freeze as many as I can.  After thawing I microwave them to make sure they are warm through, then pop them into the toaster oven for a minute–after that you'd swear they were fresh baked.
#4 Cinnamon Raisin Bread
This delicious homemade recipe for Cinnamon Raisin Bread from Allrecipes is a bit more work than most of these treats, but quite delicious.  I cut the ingredients in half (because otherwise I think it would overload my Kitchenaid mixer) and it still makes two loaves.  It does bake in less than the 45 minutes the recipe calls for, so be sure to check your bread early.
#5 Cranberry Bread
Have you every read Cranberry Thanksgiving?  It's a cute story, and on the back is the recipe for Grandma's Famous Cranberry Bread.  I'd tried several recipes before this that were not what I was looking for–this one is just right–just enough tart cranberry and orange flavor.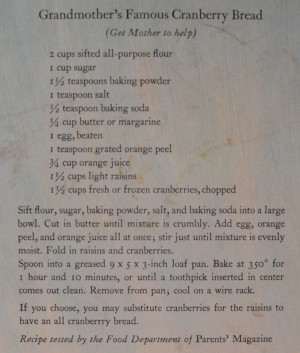 #6 Pumpkin Bread
This recipe for Downeast Maine Pumpkin Bread is terrific.  And I'm not saying that just because I'm from Maine–I'm backed up by the 5,000 people who have reviewed it!  It makes three loaves, so there is plenty to freeze.
#7 Rhubarb Bread
Every old garden in Maine has rhubarb growing in it.  This recipe that was once listed in a local newspaper makes a delicious sweet bread from the tangy stalks.
1 1/2 cups packed brown sugar
2/3 cup vegetable oil
1 egg
1 cup buttermilk
1 tsp. salt
1 teaspoon baking soda
1 teaspoon vanilla
2 1/2 cups flour
2 cups diced rhubarb
Mix brown sugar and oil until smooth.  Add egg, buttermilk, salt, soda, vanilla and flour.  Blend until moist.  Fold in rhubarb.  Pour into two greased loaf pans and bake at 350 degrees for 50-55 minutes or until a toothpick inserted near the center comes out clean.  (By the way, if you don't have buttermilk just put one tablespoon of vinegar into a measuring cup, add milk to make 1 cup total liquid and let stand for 5 minutes before using.)
#8 Scotch Tea Muffins
These are plain muffins that are perfect for pairing with homemade jam.  The recipe came from an old Canadian cookbook my mother treasures.
2 tablespoons butter
1 egg
4 cups flour
dash salt
1 1/4 cups sugar
1 1/4 cups milk
4 teaspoons baking powder.
Mix dry ingredients.  Then add wet ingredients.  Bake at 350 degrees fro 15-20 minutes.
#9 Whole Wheat Bread
I love this Simple Whole Wheat Bread recipe from Allrecipes.com.  It makes three loaves so the work involved really pays off and I've had wonderful luck with it.  When I first started making it I tried freezing the dough before it rose at all, freezing after the first rise and freezing after it was baked.  The already baked bread tasted wonderful from the freezer and the bonus: that was the easiest, too, because it can be taken right out of the freezer, thawed and enjoyed just like fresh baked.  If anyone has frozen store-bought bread before you may notice the texture suffers after you thaw it.  This is not the case with homemade bread–trust me!
#10 Zucchini Bread
And last, but certainly not least, a recipe for Zucchini Bread from Allrecipes.com.  If your children balk at the idea just feed it to them first before you tell them what's in it.  My children love this bread.
What Will We Do During Tea Time?
We'll read poetry aloud with a goal of memorizing one poem each month.
Homeschool Share has regular Tea Time posts with information and links for studying poets, composers, and artists.
These next two resources have helped expose and educate me along with my children in subject areas that were challenging for me.  I had almost no experience or knowledge in fine art and music and these resources from fellow homeschool moms are invaluable.

Fine art and music appreciation is planned for you with Harmony Fine Arts.  We'll be using Grade 5 this year to go along with our history studies.
Mary from Homegrown Learners shares her classic music appreciation technique of Super Quiet UnInterrupted Listening Time.  I'm an affiliate for her just-released ebook with 10 SQUILT lessons because I honestly love this resource.  The information she shares on each piece of music is crucial for me to share intelligently with my children.  Click here to visit Homegrown Learners.
 Hop over to iHomeschool network for more top ten lists.
This blog hop series was inspired by Angie of Many Little Blessings where you're welcome to link up, too!