Sculpting Wire Like Norman the Doorman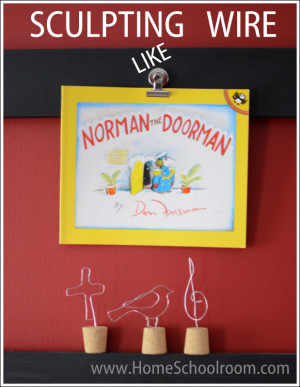 We love the sweet story of Norman the Doorman by Don Freeman.  Norman is a hardworking doorman in the basement of a museum.  When he isn't guiding mice through the artistic treasures he pursues his hobby: trying to "create something pleasing or beautiful." Wouldn't that be a great pastime for us all?
During the story Norman creates a wire sculpture and enters it into a sculpture contest at the museum. Inspired by Norman's creation we tried our hand at wire sculpting.  I had been wanting to try this with my kids ever since I saw the "Drawing with Wire" article in Family Fun Magazine last year.
For supplies you simply need:
paper and pencils for sketching your ideas
wire: you can find it in most craft stores, often in the jewelry section (ours was 20 gauge)
wire cutters
something to hold your wire creation like cork or modeling clay, or you can hang your finished product
safety glasses would have been a good idea (but I forgot)
needle nose pliers can come in handy, but aren't necessary
On a way-too-hot-to-be-outside summer afternoon we reread Norman's story, then gathered at the table to create.  We found out it wasn't as easy as we first thought and why Norman worked "all through the day and far into the night."
Family Fun's suggestion of sketching on paper without lifting your pencil helped get our ideas flowing.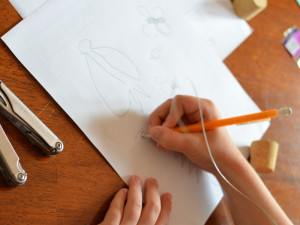 We twisted and bent the wire until we felt we had created something pleasing.  The wire was very forgiving–if we didn't like our shape at first, we just tried again!  Leave some wire free for mounting unless you plan to hang your sculpture.
To finish we used a large pushpin to make a hole in the cork before sticking in the free end of the wire.  We didn't find it necessary to mount our corks to a board like the article, they stood just fine on their own.
Norman says "all pieces must have titles" so it was time to name our creations.
My daughter created "Tribute to Treble."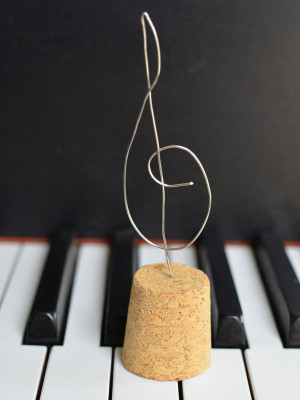 My creation is "Bird in Wire."
My son's creation is "The Cross of Jesus."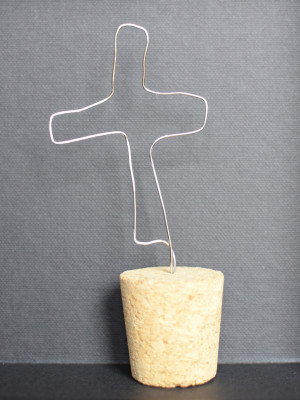 It was fun to create something beautiful and we're very pleased with our results!
This post is part of a fun iHomeschool Network Blog Hop where we're all sharing A Book and a Big Idea. I know I'll be looking for more ideas to fill those too-hot or rainy summer days!