Holiday Homeschooling: Learning While Celebrating the Christmas Season
I've mentioned that most of our formal schoolwork takes a backseat to the many wonderful activities of the Christmas season, but do we take a whole month off from school?  Not exactly.  First of all, I've come to realize that we're never really "off" because we never stop learning.  We school year round with some periods of the year more relaxed than others.  The time from Thanksgiving to Christmas is one of those times I let our formal curriculum sit on the shelves and capitalize on the learning opportunities of the season.  This particular week illustrates what I mean perfectly.
Making and Baking
Any time of year I enjoy creating with my kids.  It's fun, it's a great bonding time, and there is a lot to be learned.  You can find real-world math in measuring, counting, and fractions, not to mention reading comprehension, following directions, and pride in your final product.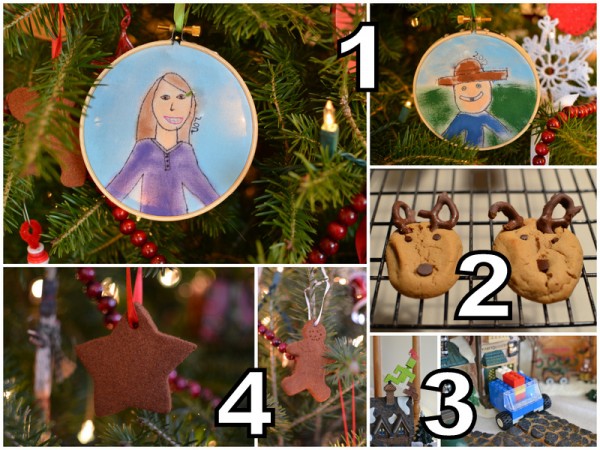 These are the things we created together this week:
We made self-portrait ornaments, which may be one of my favorite homemade ornaments to date.  What a fun way to capture their personality and ability at the moment!
A Pinterest find: reindeer cookies.  Ours didn't turn out half as beautiful as the Pinterest photo, didn't taste as good as I'd hoped, and both my kids burned themselves on the pan (despite repeated warnings from me) while trying to put the antlers on.  But we had music playing and were all wearing antlers and ended up laughing over the whole process in the end.
I had to spend half a day finishing up my Christmas shopping.  To keep them from asking their Dad (who was working at home) what to do, I left them a list of some chores and more fun tasks.  One was to build a Christmas decoration from Legos that I would have to find when I returned.  In our Christmas village I found the Grinch and Santa's new motorized vehicle (you didn't know he upgraded?).
A yearly tradition is making cinnamon ornaments.  As they dry the whole house smells wonderful!  It's all the fun of rolling and cutting out cookies but easier because the dough has only two ingredients and there aren't clouds of flour all over the place.
Performances
During the holiday season there are countless opportunities to watch and participate in performances.  We're doing both and they provide wonderful experiences.  This week we attended an amazing performance of Annie, and weeks of hard work culminated in a piano recital for my daughter and church Christmas pageant for both my children.
Reading
Reading is the homeschool activity that never stops.  Both independent reading and reading aloud are the backbone of not just our homeschool but our life.  We have a collection of very special Christmas picture books, plus I check out an armload more from the library.  Even as my kids get older the artwork and endearing stories of quality picture books are worthwhile.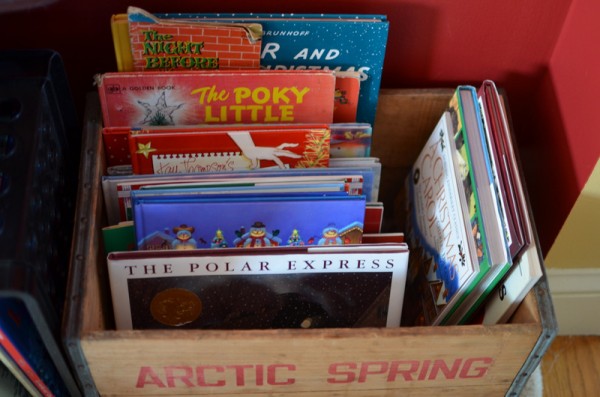 The Christmas season is a great time to take advantage of one of my favorite tools: audio books.  My hands can be busy making or wrapping gifts or tidying up after a baking session, or we can keep our minds engaged while in the car running errands or driving to visit friends and relatives.  Right now we're listening to The Long Winter from the Little House series and Hello, Mrs. Piggle-Wiggle.
Writing
Opportunities abound to work on writing in a fun and relaxed way.  This year my daughter is writing a holiday newsletter to send out with our Christmas card.  Both kids write messages in cards and letters to Santa.
Music
Christmas music is the soundtrack of the season.  This year we're adding a study of the carols using the book Christmas Carols for a Kid's Heart.  And you can't think about holiday music without thinking of Tchaicovsky's Nutcracker.  We did a unit study last year and attended the ballet.  This year we're enjoying the music at home, watched a production on Youtube, and used some of the ideas from the free Nutcracker Unit Study from Mary at Homegrown Learners.  It was my favorite resource this week because time seems extra tight this year and her unit study had great free and easy-to-implement resources that we could use for enrichment.
Unit Studies
If we have the time and desire for something a little more formal there are some great holiday topics to be studied.  We've enjoyed units on The Nutcracker, The Christmas Day Kitten, and the Symbols of Christmas.  Homeschool Share has more than a dozen free Christmas-themed units.  This year with other activities we haven't had time to devote to a full unit study, but that's okay!
It's also great fun to choose another time period or country and recreate those holiday traditions.  Last year we were studying colonial times in history, so it was a perfect time to focus on an Early American Christmas.  There were wonderful storybooks available and countless crafts and recipes to add to our Christmas season.  This year for our homeschool geography club meeting in December the country was Sweden so we learned about St. Lucia Day.  My daughter brought her American Girl Doll dressed in a St. Lucia costume.  (Easy to make from items we had: a t-shirt of my daughter's pinned in the back, a pirate costume belt, mini pine garland, pipe cleaner and felt candles.)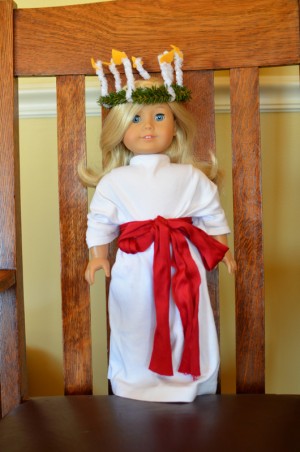 Traditions
And though it may not help with spelling words and math facts, Christmas traditions strengthen our family bonds. Our favorite this week was our Christmas lights tour.  I packed a bag with surprise snacks (printable ticket thanks to Confessions of a Homeschooler–back this year by special request from my kids), we brought hot cocoa in travel mugs, and the kids wore pajamas and slippers.  It's a magical night each and every year.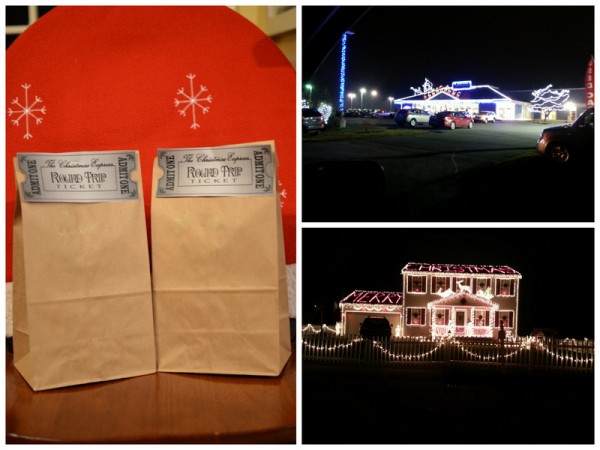 So that's how we homeschool through the holidays.  We have the flexibility to enjoy the Christmas season, but the learning never really stops!
I'm linking up with these terrific hostesses: