Christmas Tree Picture Books and Activities
Christmas trees are one of my favorite Christmas decorations.  I love sitting in our living room lit only by the twinkling tree lights, reminiscing over Christmases past, recounting the memories in our ornaments, and admiring the pattern of the lights shining through branches onto the ceiling.
We have a collection of beloved Christmas picture books that we revisit like old friends.  Just for fun I'm here to share with you our favorite picture books about Christmas trees and activities that pair nicely with the theme–everything from crafts and nature study to poetry and music!
Picture Books About Christmas Trees
Mr. Willowby's Christmas Tree by Robert Barry: We love this heartwarming story!  Wealthy Mr. Willowby has a fine tall tree delivered, but has to cut off the top to fit in his room.  The tip of the tree passes down through families (human and animal) to be the center of many celebrations.
Christmas Tree Farm by David Budbill: This is a great living book that tells the story of a man's work on a Christmas tree farm.  Lovely illustrations depict the mountain scenery and the year long job of planting, tending and pruning trees that will grace our living rooms.  It's no longer in print, so check your library or look for another book that tells children about their tree's life before it came home with you.
The Tree That Came to Stay by Anna Quindlen: This is a sweet story of simple family traditions centered around the tree.  I can relate to the sadness of saying goodbye to the tree that shared your Christmas celebrations.  In this book they keep a basket of needles from the tree to keep a little part of their tree and the smell of Christmas.
A Christmas Tree in the White House by Gary Hines: This picture book is based on true events during Theodore Roosevelt's time in the White House.  I enjoy stories that let our children learn about past presidents as real people.
The Berenstain Bears' Christmas Tree by Stan and Jan Berenstain: I am a Berenstain Bears fan, and this story complete with rhyming text doesn't disappoint.  Papa Bear is up to his normal antics as he searches for the perfect Christmas tree, meeting up with misfortunes along the way.  As a family that trudges through a tree farm to find our "perfect" tree this story has us laughing, and the tender ending reminds us to think of all God's creatures during the holiday.
Christmas Trees by Robert Frost and Illustrated by Ted Rand: This poem by Frost was made into a beautifully illustrated picture book.  It's actually alive with the colors of fall on a farm and shows a city man coming to buy Christmas trees from a country farmer.  If you know much about Frost you can probably guess that the country life is depicted as preferable.
Christmas Tree Activities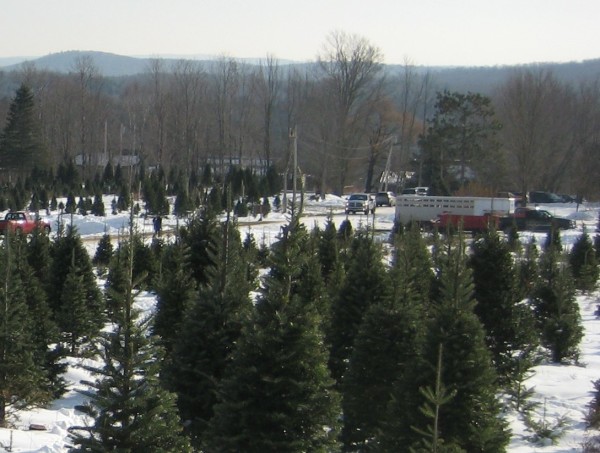 Visit a Christmas Tree farm: If you usually use an artificial tree or buy one from a pre-cut tree lot, try to visit a Christmas tree farm.   It's a treasured tradition in my family to make the trek to the tree farm and wander about the field to choose and cut our own tree.  We've visited the same tree farm for years.  It doesn't hurt that they offer cider and donuts and a horse-drawn wagon ride!
Make scented sachets from your Christmas tree needles:  I love the idea of keeping a little bit of our Christmas tree all year long like in The Tree That Came to Stay.  I think we'll try it this year with scraps of fabric machine or hand sewn into little sachets to tuck into closets and drawers.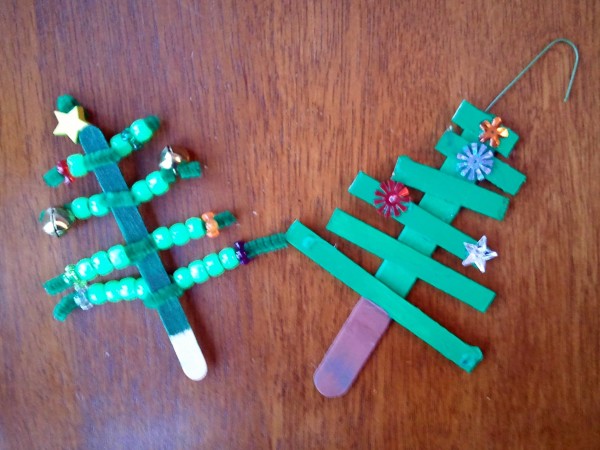 Make an ornament for your tree shaped like…a Christmas Tree!  The options are endless so you can find one for any age and crafting ability.
Pipe Cleaner Christmas Tree: Just paint (or use a marker) to color the craft stick green or brown to make a tree trunk, then wrap green pipe cleaners around your trunk.  After that provide an assortment of beads to decorate.
Craft Stick Christmas Tree: The other tree is also easy and involves gluing craft sticks together to make a tree shape.  I recommend using a large craft stick for the trunk and smaller ones for branches.  I like using hot glue because it dries quickly, but white glue would be fine if you allow it time to dry.  Paint the sticks brown and green and then glue on sequins or buttons or whatever for decorations.
We'll be stepping it up this year and sewing this fabric Christmas Tree ornament.  I can't wait to see what mix and match fabrics my kids pick out of our fabric stash!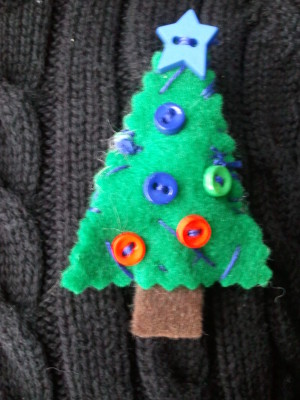 Make a felt Christmas Tree Pin: We started with the idea here, and just added our own touch by decorating it with button ornaments and a star and embroidery floss garland.  These were really fun to make, and we just used inexpensive craft felt–though the wool felt would be nice. The photo is one my son made when he was 6.  By the way, these make adorable gifts for grandmas or anyone else who would treasure a handmade item from a child they love.
Decorate a tree outside for the birds (and squirrels–we can't forget Nutty our squirrel friend!):  We'll try some ideas from Wild Birds Unlimited to make some Christmas treats for our feathered and furry friends.  On the right hand side of their webpage is a link to download a brochure with recipes.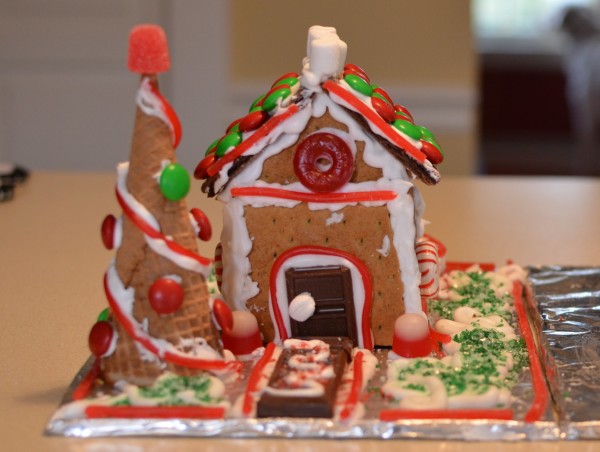 Make edible Christmas trees from sugar cones like these ones from Erica at Confessions of a Homeschooler.  I've done this with groups of kids at Girl Scouts and kids at my home to add to our gingerbread house decorations.
Incorporate a little nature study:  What better time to study trees than when you have a large specimen in the middle of your living room!  If you don't already know the variety you can find out using the Arbor Day website.  Here you can see a list of the top ten Christmas tree varieties with links to learn more about them.
Include some music appreciation:  How about studying the Christmas Carol "O Christmas Tree" to incorporate a little music?  I hadn't realized how many versions there were until I searched when writing this blog post.  You can read a little more about the carol on Wikipedia and listen to whatever version you have in your holiday music at home.
Learn about the history of Christmas Trees:  When did people start bringing a tree into their homes and decking it with lights and ornaments?  The History Channel offers a lengthy article and many videos discussing the history of the center of our holiday decorating.
If you're like us and put aside the regular curriculum to savor this special time of year, visit my Pinterest page for more Christmas activities to do with your kids.  
You'll also find more ideas as part of iHomeschool Network's roundup of  winter and Christmas "A Book and a Big Idea" posts!