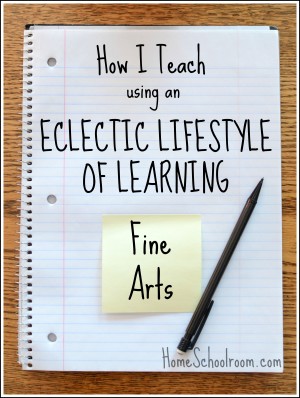 This is the final installment in the "How I Teach" series, where I've been sharing how I approach each subject area.  It's time for the finishing touches: fine arts.
What do I try to cover in fine arts?
This is where I bring in the beauty, all that is lovely in classical music and art, theater and dance.  I'm interested in two things: appreciation of beauty through experience and education, and also opportunities to produce beauty.
Why are fine arts necessary?
Why bother with fine arts?  Aren't they just frosting?  Well, one of my favorite homeschool authors says it better than I can:
Great paintings, like great music, are part of our common culture.  They are part of the core that educated people enjoy and share and through which we all gain deeper understanding of human possibilities in this world…What we want is for the children to use their minds in a kind of thinking that they don't experience while practicing subtraction or learning the past tense of verbs…Study more than the tyrants and wars of the past.  Enjoy the best of civilization.  Enjoy music and art."  Ruth Beechick in You Can Teach Your Child Successfully
How Do I Teach Homeschool Fine Arts?
I was initially nervous trying to cover fine arts because of my limited knowledge, but I've found great joy in learning alongside my children using simple techniques and a myriad of available resources.
*This post contains affiliate links to products I use and enjoy in our home.
Both my children take private music lessons that include music theory.  This one requires the highest financial sacrifice and time commitment, but also has the largest life-long benefit.  My children both have developed a love for their instrument and enjoy playing for others, both informally in our home and at recitals and church.
My eleven-year-old daughter recently joined the adult choir at our church, which is not only providing a lot of music educations, but a lasting relationship with the choir director, the delightful members of the choir, and the lovely songs they sing.
This is our second year utilizing Harmony Fine Arts, an art and music appreciation curriculum created by Barb, a homeschool mom who just graduated her third child.  Her materials have been instrumental in our fine arts education: she provides a fabulous framework to help me know what to introduce, leads me to wonderful resources (like The Story of the Orchestra), and provides instruction in methods that are simple and enriching, like picture study.  And here's a great tip I learned from her: discounted calendars are an inexpensive way to obtain large full-color prints by famous artists.  I just picked up a Monet calendar for $3 at an art museum!
Another homeschool-mom-created curriculum that I love using is SQUILT by Mary from Homegrown Learners. The Super Quiet Uninterrupted Listening Technique helps your children form a personal relationship with great classical music, and Mary provides the background information to allow you to have educated discussions with your children about what they hear.
Two other easy to use resources are Maestro Classics CDs (I bought Peter and the Wolf for Christmas), and listening to Classics for Kids, an excellent radio show (you can listen online or as a podcast) that teaches children about composers and pieces of music.
We go to experience fine arts when possible.  We've enjoyed wonderful opportunities: Shakespeare's Twelfth Night, a production of The Nutcracker with full orchestra, the musical Annie, an on-stage radio theater presentation of A Christmas Carol, art museums, etc.  This can also become expensive so I watch for discounted tickets.  I also use quality DVD recordings, like we did for CATS, to bring the productions to us.
To produce art I use resources like Storybook Art, keep supplies on hand and allow my children free use of them, and use ideas from my Art and Artist Study Pinterest board for learning about great artists  and producing our own art.  We also enjoy participating in Sketch Tuesday at Harmony Fine Arts.  Email your sketches on that week's theme, and then enjoy a slideshow of everyone's drawings.
We've begun studying hymns using the book Then Sings my Soul: 150 of the World's Greatest Hymn Stories.  It's simple: I read the story of the hymn from the book and find a YouTube video with the words displayed on the screen.  We listen regularly and try to sing along until we've learned it.
I hope this in-depth look into how I teach each of the subjects has been helpful.  I love learning alongside my children and finding the methods that work for all of us to enjoy the journey of education.
The "How I Teach" Series: