Unit Study: Maple Syrup

What We Learned About Maple Syrup:
It takes a lot of work to make maple syrup!  Great books and a visit to a sugar shack showed the immense work involved.
There is a long history of tapping trees!  My goal was to cover the historical aspects, not just answer the question of how maple syrup is made.  We learned about tapping from Native American times to modern production, focusing on maple sugar's historical importance as a sweetener.  Only more recently has the majority of sap been made into syrup.
Maple syrup isn't just for pancakes! Sweetening products with maple syrup helped my children see how useful the products from maple sap can be.
Resources for a Maple Syrup Unit:
Homeschool Share's Maple Syrup Unit Study and Lapbook:  This study covers the how-to and science topics very well.  There are minibooks for the tools and equipment, the process of tapping trees, what trees can be tapped, and science experiments.
Websites:

www.arborday.org/trees/RingsTreeNatomy.cfm: a nice diagram with description of tree layers.  I focused on understanding there are layers to the tree and that the sap runs in one called "sapwood."  We made a minibook by cutting circle shapes out of different colors of cardstock to mimic the layers.

Books:  I did not have the specific books from the Homeschool Share unit, but found great resources at my library.  Any good book that shows the process of tapping trees to make syrup will work.  These are the ones I used:

Sugaring Time by Kathryn Lasky: large black and white photos depict a tapping season on a small family farm.
Maple Syrup Cookbook by Ken Haedrich: This book is a superb complement to this study, with recipes and also a wealth of interesting information related to maple syrup's history, production, and uses in the kitchen.  We had maple-sweetened muffins in the morning, maple glazed salmon and stuffed sweet potatoes (even sweeter with syrup!) for dinner, and maple spice cake for dessert.  To  celebrate the end of our study we made sugar-on-snow (or in our case, sugar-on-crushed-ice).  Delicious!
Little House in the Big Woods and Farmer Boy by Laura Ingalls Wilder both have chapters about sugaring season.
A poem:  Evening in a Sugar Orchard by Robert Frost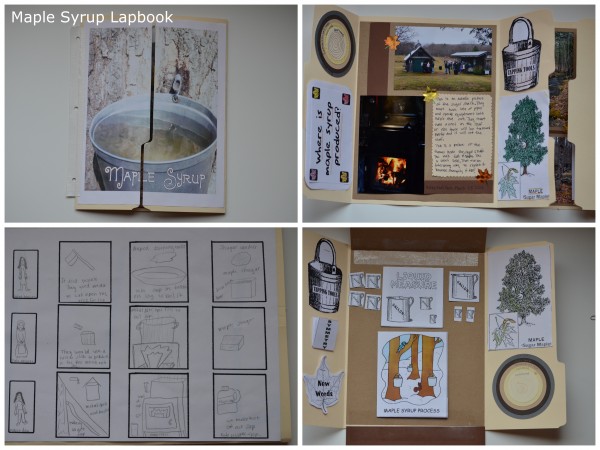 Field Trip: If you live in an area where they make maple syrup it is worth taking a tour.  In Maine we have "Maine Maple Sunday" every March and sugarmakers open their doors for tours.  We were able to visit the sugarshack to see the equipment first hand (complete with a fire blazing and steam billowing out the vents in the roof), ask the sugarmaker questions, and walk through the sugarbush to see the taps with buckets on some trees and tubing on others.  Of course my children enjoyed trying maple syrup on ice cream.