Summer (School) 2014 Plans
It's summer in Maine!  (Don't blink or you'll miss it!)  Our regular daily schedule goes out the window in favor of relaxed summer days, but that doesn't mean we stop learning.  You can read my post on year-round schooling for the why of summer school for us, in this post I'll tell you what that looks like this year.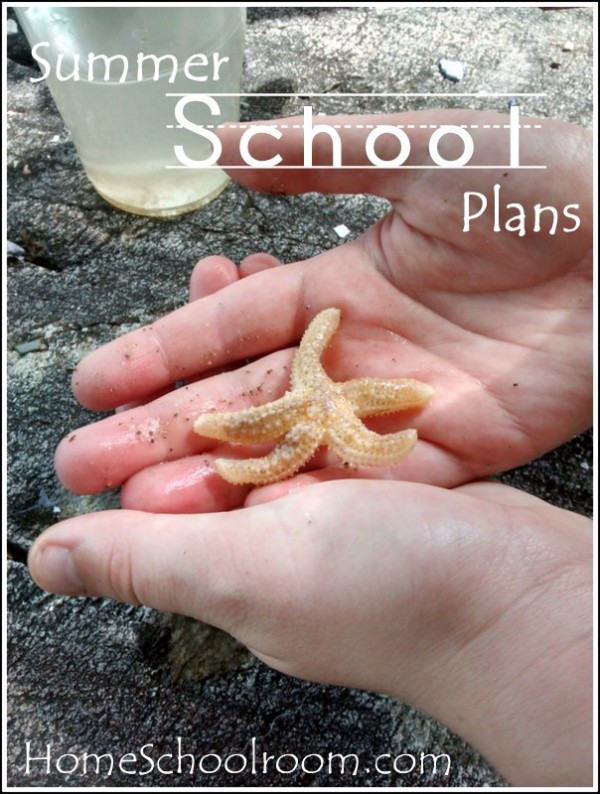 I am finding that I can loosen my reigns a little as my kids are becoming more independent learners and honing in on their own special interests.  For my daughter that means plenty of time for playing piano, writing stories, and crafting (crocheting, shuttle tatting, sewing).  For my son that means creative role playing, building (Lego & Lego Robotics, playdough, wood and nails…anything), and finding creatures outside.
Daily (Mostly) Independent Work
Within our relaxed schedule I keep a few required subjects going throughout the summer.
My 12-year-old daughter:
Finish Teaching Textbooks Math 6 (less than 20 lessons left!)
Daily piano practice (lessons continue in summer)
Literature: read daily from a list of quality literature, her free reading is her choice
My eight-year-old son:
Read to me (and most days a quick All About Spelling lesson right after)
Daily guitar practice (lessons continue in the summer)
Writing: He generally dislikes writing but enjoys a joint journal where he and I write back and forth.
Learning Together
The things we learn and do are very flexible during the summer.  It involves lots of reading and taking advantage of opportunities that come our way–nature study when we're camping at the ocean, visiting a farm on Open Farm Day, attending a Shakespeare play.  I fit these in around summer fun, and chores like mowing the lawn and caring for the garden (which is a yet another learning opportunity).
History
I mentioned our school year had a bit of a soft ending, and part of that is due to our study of the Romans.  So all of June and the early part of July are finding us still reading and marveling over the Roman Civilization.  I want to hit on a couple more topics and maybe have a little end-of-unit celebration, then close the history books for the remainder of summer.  The kids aren't complaining a bit: today Julius Caesar was running around the house conquering (then sitting on his throne), and I acted as interviewer of Cleopatra for a video narration by my daughter.
Reading Aloud
We do a lot of reading aloud during the school year for history and science, plus a literary book club.  Over the summer we'll still read aloud together, with a theme of silly and sweet.  Roald Dahl's BFG and The Witches along with the Ramona books will take care of the silly.  Then for sweet we'll be reading Winnie the Pooh (which I keep hearing it is perfect for slightly older kids like mine), and perhaps Paddington Bear. I can't tell you how much I love sharing stories with my children.
We also participate in our library's summer reading program.  The requirements are general and easily met by our regular reading, but my favorite parts are the special events like a puppet show and Mad Science show.  I've also printed up the fun, free resources from Traveling Through The Pages Summer Reading Program.  I like the requirements from different genres so I'm going to use this as a family reading program and see if we can complete all the squares and reward ourselves with some sort of prize.
Nature Study
We incorporate nature study regularly, but certainly it is easier during our warmer months.  We camp at the seashore many times during the summer, and no matter how many times we go we always learn more.  I'm trying out a couple new things this summer:
In the past we've added nature journal pages to binders, but for fun this summer I bought nice hardcover sketchbooks for each of us.
I'm not assigning what to draw, just requiring one drawing a week (and I'm including myself in the assignment–it's good for me!).  It's more relaxed for me, and allows my children to follow their interests.  My daughter often picks flowers while my son focuses on creatures.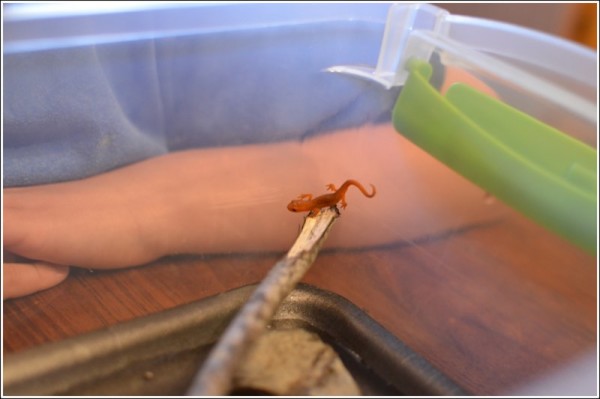 Another part of our summer nature learning is keeping temporary pets.  We've done this before with monarch caterpillars and a katydid, but I'm focused on finding (or agreeing to) even more opportunities this summer.  So far we've had a garter snake (that I was initially afraid to even touch), an Eastern Newt, and a Golden Ground Beetle.  We learn so much by having them up close to observe, even just for a few days, and it really excites my critter-loving little boy.
Art
We love participating in Sketch Tuesday during the school year, and Barb is organizing a special summer art series on Picasso.  Each Tuesday in July she'll post an art project assignment based on one of Picasso's works.  My kids enjoy the slideshows Barb puts together of everyone's projects, so this will be a fun way to keep art going over the summer.
So those are my relaxed summer learning plans.  Just enough to keep our brains engaged but allow for lots of free time for my kids to pursue interests, and me to get rested up and geared up for next year! 
How much do you plan your summer learning?