Still Learning During Break…and a Little Schedule Adjustment Makes a Big Difference
We had a terrific holiday break, and I hope you all enjoyed some wonderful time with family and friends.  If you were smart you didn't enjoy as much fudge as I did.  Luckily we finally got the snow my kids have been wishing for, so I also had to do some shoveling!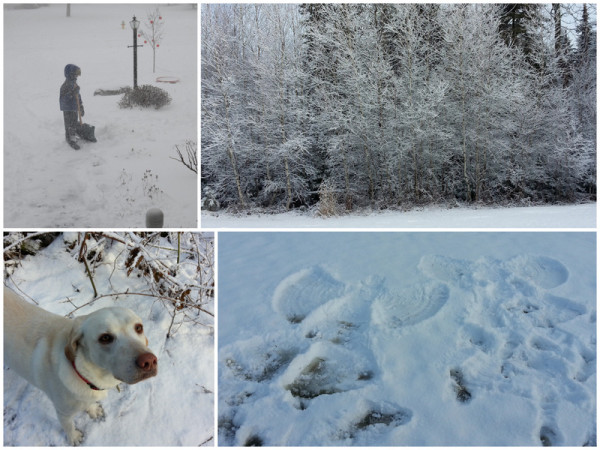 More than one snowfall occurred over break and we took full advantage.  My opinion is if it's going to be cold we might as well have snow–it's pretty and lots of fun for kids (and dogs!).
I put aside our formal curriculum during December to focus on Christmas activities (which still involved lots of learning), with a plan for nothing but friends, family and fun from the week before Christmas up until the new year.  The part I love is that we just can't stop learning!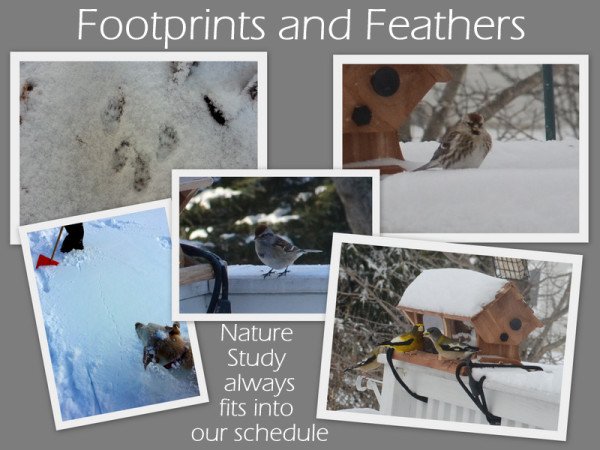 Nature study has become something that occurs just naturally (pardon the pun) for our family!  We found tracks to identify in the fresh snowfall and new-to-us birds to look up in my Christmas gift–the Birds of Maine field guide.
We also met (and fell in love with) my brother-in-law's Turkish girlfriend and asked her a million questions about her country and culture.  Luckily she's patient and loved us right back so hopefully she didn't mind.  The homeschooler in me chuckled at how much we were learning on our vacation!
On New Year's Eve I was far too tired to think about staying up until midnight.  Here's a trick I've used before:  use time zones to cheat.  We rang in the New Year with London.  At 7:00 pm we toasted while watching the fireworks and listening to Big Ben on the BBC.
We also opened our 2012 time capsule.  Last year I typed up a quick questionnaire with things like height and weight, favorite shows and activities, and resolutions for the new year.  We rolled them up and put them in a paper towel tube and packed them in with our Christmas decorations (so I wouldn't forget about them…not that I forget things like that…).   We had several giggles reading over them.  Oh, and I won the award for most weight gained.  I wish I was kidding.
We had a lot of fun over the holidays, and the change was long enough that we were ready to jump back into our regular routine. The break was also a good time for me to evaluate things.  One area I wanted to address was our morning start time, which seemed to be later than desirable on too many days.
As I read Charlotte Mason's writings I was reminded that my habits must be in order if I want to pass on good habits to my children.  Some self-reflection helped me notice I sometimes get lost on my computer or throw in a load of laundry or do other things and neglect to get myself ready on time.  My daughter also takes longer to "beautify" herself (her word choice!) than when she was younger, so she had to make some adjustments to her morning.  She and I brainstormed and came up with a workable plan.
I set a time for myself that I must get in the shower and this begins everyone's "get ready" routine.  Sounds simple, but it was necessary–I had embraced the flexibility of homeschooling a little too much!  The other change was that in our previous schedule we had breakfast and watched Student News before heading upstairs to get ready for the day, then met back downstairs for school.  With the new plan we'll be getting ourselves ready earlier and then meeting for breakfast and the news once we're all dressed.  Then it's easy to hop directly into our work!
We've had three mornings to try it out, and I must say the mornings are running more smoothly and we're starting promptly–which leads to finishing our work and all of us having extra time in the afternoon to pursue our interests.  I'll let you know how I do at sticking to this new routine until it's a habit!
Thank you to the wonderful hostesses with fun link-ups on Fridays. Be sure to join the fun and see what other homeschoolers are up to!