Easy Music Appreciation…for the Non-Musical Mom
I've mentioned the SQUILT music appreciation curriculum several times when talking about our Tea Time resources.  I think it's high time I posted a full review!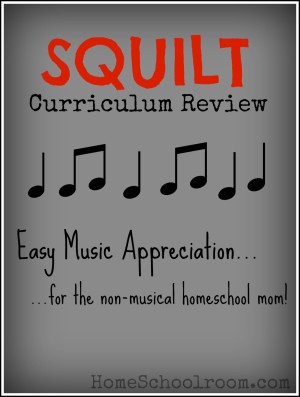 Note: I am an affiliate for this curriculum that was created by a fellow homeschool mom, and the links in this review to the SQUILT website are my affiliate links.  Like all my reviews, these are my honest opinions after using the materials in our homeschool.
SQUILT is a music appreciation program created by Mary of Homegrown Learners.  The name is an acronym for Super Quiet UnInterrupted Listening Time, a technique Mary used as a school music teacher and then as a homeschool mom. The basic premise is to listen intently and learn about one music selection at a time.
There is so much information in the SQUILT volumes, and you can use as little or as much as you like!  Printable charts help you come to know important terms in music: rhythm and instrumentation, dynamics and tempo, and instruments.
I have no background in music education, having been a piano lesson dropout and avoiding any and all music classes thereafter.  SQUILT is a terrific tool for a mom like me, who wants to learn about classical music alongside her children.  I simply open the lesson and we enjoy it together.
What is involved in a SQUILT lesson?
Each lesson includes the name and composer, a brief background of the piece, at least one link to listen to the piece free online (no CDs to buy!), and often other links to related videos: performances of the piece, etc. You could spend as little as ten minutes on a lesson, listening to the selection of music first in complete silence (preferably with eyes closed), then listening again and filling out the included printable SQUILT record sheets.
During the first time listening I have my children face in opposite directions to minimize temptation for my ham of a son to make crazy faces to elicit big sister's laughter!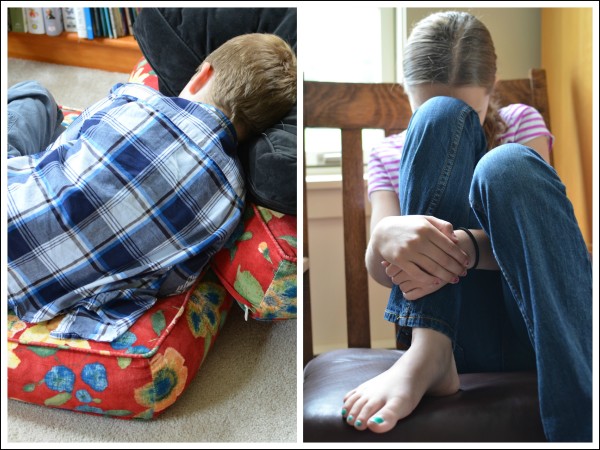 Mary includes two styles of notebook pages to record the lesson if you choose: one for older children with space to write about the details and one for younger children with space for drawing what they hear.  This works perfectly in our home, with my pianist daughter filling out the written sheet and my eight-year-old son drawing his reaction on the other sheet.  Mary's notes on the dynamics, rhythm/tempo, instrumentation and mood help this musically-deficient mom have an intelligent conversation with my children about classical music!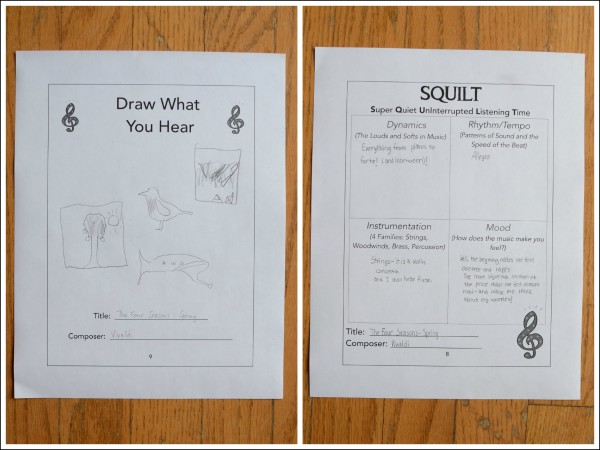 You can really stretch the lesson over a longer period of time, listening to the piece repeatedly and exploring the extra ideas (complete with printable notebooking pages) that Mary puts right at your fingertips.  The lessons are filled with information about specific instruments, musical terms, and classical music itself along with links for further reading, listening, and viewing.
The "extras" vary depending on the lesson, but there's always a treasure trove of ideas for further study and to build your knowledge of classical music.  Here are some of the things we've enjoyed while using the SQUILT curriculum:
We learned about "Pachelbel flattery" where more modern music uses parts of Pachelbel's Canon (Volume 1, Lesson 1), and followed links to hear it in action.  My daughter went on the play a variation of Canon in D (arranged by George Winston) for her piano recital.
There are extra notebooking pages throughout: one for each composer (my daughter likes to research the composers),  others on the time period, a certain instrument or style of music, or the background of the music.  We used the printable of the poem that accompanies Vivaldi's Spring as copywork (Volume 1, Lesson 4).
Learning about Tchaicovsky's "Love Theme" from the Romeo and Juliet Fantasy Overture (Volume 3, Lesson 9) led us to listen to the whole piece…then read an adaptation of the play…then watch the entire play on YouTube!
We learned more about the pipe organ while studying Tocatta and Fugue in D Minor by Bach (Vol. 1, Lesson 7).  It prompted us to take a closer look at the pipe organ in our church, and we learned so much about something that's been right in front of us for years and have a greater appreciation for the amazing instrument it is.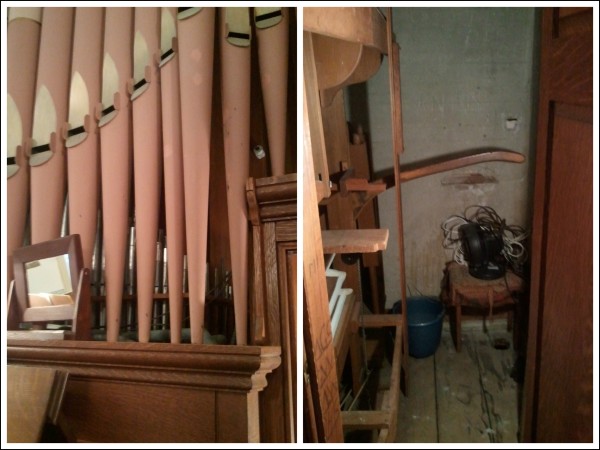 What do I think is so special about SQUILT?
Here's what I think is truly unique and incredibly beneficial: you build appreciation one piece of music at a time!
As Charlotte Mason style homeschoolers, we strive to learn about famous composers and grow love for their music.  I play classical music when it can be an enriching background, but using the SQUILT technique is like picture study (where you focus on one masterpiece until your child can recall it from memory).  Listening to a piece of music and really focusing on it builds a relationship with it that merely having music in the background does not.
SQUILT is a helpful technique that you could use and apply to other pieces of music, but the information from Mary's notes and ideas for extra learning are well worth the money to me!  I honestly wouldn't even know where to begin to choose music to study.
Add Music Appreciation to your Homeschool with SQUILT:
There is great information on the SQUILT curriculum website.  You can download sample pages under the "Freebies" tag and see the table of contents for each volume under the "SQUILT Curriculum EBooks" tab.
Right now there are 3 volumes of SQUILT, with 10 lessons per volume.  I enjoy how Mary has arranged the lessons by era, so those of us studying history chronologically can use the volume that coincides with our studies.  You can buy volumes individually for under $10, or right now snag all three available volumes for $26.99!