Review: Heritage History
It is important to note the difference between history books and textbooks.  A history book tells true stories from the past, while a textbook focuses on facts, names and dates without room for the the story.  The distinction is so important to me!  I disliked history classes in school, probably because I'm just horrid at remembering names and dates.  I love a good story, though, and have been falling in love with history as I teach it to my kids using living books.  A company called Heritage History has this philosophy:
What we consider essential is not perfect retention of a particular set of historical facts and concepts but an abiding interest in history itself."
Sign me up for that!  The more I homeschool the less I feel I learned in school, and the more I realize I can't teach them everything that is valuable to know in all subjects.  I really have to focus on creating lifelong learners so that they will continue to learn and be curious their whole lives.
Heritage History collects historical books in the public domain and re-formats them for use with digital e-readers.  Hundreds of these books for young people are available for free to read on their website, but they also sell CDs with collections of books formatted specially for printing or reading on several different devices.  Titles are limited to only those with expired copyrights and therefore the time period covered does not extend beyond the early 1900′s.
There are two types of CDs offered:  one is a library CD that is a grouping of books on a specific time period or civilization, the other is a curriculum CD that can function as a stand-alone history curriculum because it includes the books plus maps, timelines, recommendations and accountability forms.  Heritage History also promotes using their books as a supplement to other history programs.
I was given the opportunity to review a Heritage History CD and chose Early America because that is the time period we are already studying.  The CD contains the book files as MOBI (for the Kindle), EPUB (for devices like the iPad) and also pdf (so you can print them).  I am trying to avoid using reams of paper and loads of ink, but needed both the other files for my daughter's Kindle and our iPad.
Loading the Books onto Multiple Devices
The CD arrived on a day my husband (better known around here as Mr. Tech Support) was working one of his 24-hour shifts.  I placed it on my desk figuring to wait for his assistance; my usual routine with technology is to wait for Tech Support.  You can read about my technology phobia here.  Later in the day I was struck by the desire to figure this one out for myself.  Perhaps I'd had too much coffee.
I sat down with my multiple electronic devices (that could cause hives all on its own!) and popped in the CD.  Very simple instructions are available right on the CD case and on Heritage History's website.  Ten minutes later I had books loaded on the iPad.  Can I just pause for a moment to say that the iBooks interface with the wooden bookshelf is so cute?  I love the attractive visual, and though it was a new program for me I quickly figured out how to open books, check the table of contents, and bookmark pages.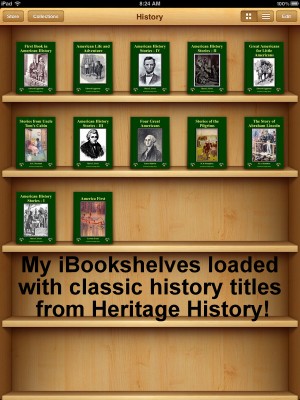 I texted Mr. Tech Support that I was now the technology guru of the house.  I was totally impressed with myself, but really it's a testament to the super-easy-to-follow instructions.
How We're Using Heritage History
Our main history curriculum is the Early 19th Century Time Traveler's History Unit from Homeschool in the Woods.  I chose it for the general schedule of topics, top-notch printables and hands-on activities, but planned to supplement heavily with living books.  We've been working through the unit, but finding the living books is not always easy.  Our town's library is small so I make frequent use of inter-library loan.  One problem is timing my requests so I have it in our home by the time I need it, but not too early or I'll have to return it before I'm done.  I am also limited in the overall number of books I can request.  I'm trying to keep our budget low so buying a lot is not an option.   Heritage History is filling a real need in our homeschool and has simplified my life.
I began American History Stories by Mara Pratt as our read aloud for history.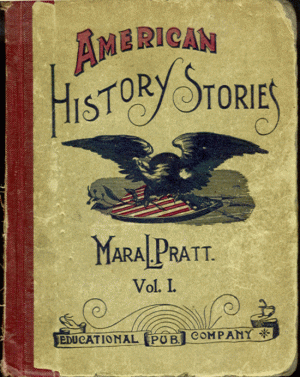 It is a four-volume set covering American history from early explorers to the end of the Civil War.  I am delighted with this selection!  It's so enjoyable I decided to back up and pause our other program as we read from the beginning to refresh our memories from when we started studying American History last year.  Mara Pratt's writing style is very engaging as a read aloud:  she draws us in and makes us feel as if we're watching the story unfold before our eyes.  Here's an example as she talks about the Pilgrims on the Mayflower arriving in Plymouth Harbor in December:
Now, it seems rather cruel to leave these wanderers out in the cold storm; but we must for a few moments, while we hurry over to England to learn what had happened there to force these men and women across the ocean at this stormy time of the year."
My kids are enthralled!  They are listening like they do to exciting books like Treasure Island.  They stop me to ask questions or share their feelings.  You should have seen their faces when I read about the missing colony at Roanoke!  We had studied that colony but it didn't hit their emotions the way it was presented last year.
With my new-found technology guru status I also loaded up my daughter's Kindle.  I printed the book summaries from the CD and allowed her to pick any books in green (everything is color-coded so you know what reading levels the books are).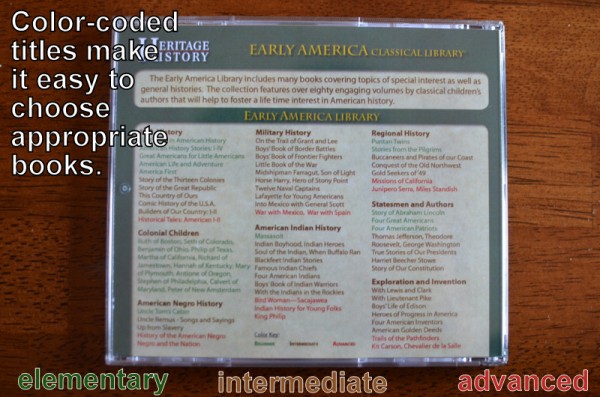 Ten minutes later she had a dozen new books on her Kindle which made her one happy girl.
My ten-year-old daughter's opinion:  She was very excited that there were illustrations (most of the free books we were loading onto her Kindle did not contain the original illustrations).  She has been reading through America First, a collection of "100 interesting and romantic incidents from America's history."  My daughter's quote: "the stories are told very nicely in a straightforward way and are easy to understand."  She is enjoying America First for quick reading, as each chapter can stand alone as an interesting story.  In fact, it prompted her to begin writing a historical fiction story about a girl on the Mayflower.  I was thrilled that already right on her Kindle are several history books she can use for research on this time period.
The Early American CD is a library CD, not a curriculum CD.  I enjoy hands-on learning and interesting ways to narrate what they've learned (minibooks, notebook pages, unique writing assignments) so using another main curriculum for activities, printables, and other suggestions along with reading quality literature like the books from Heritage History works well for me.  I can see this being a part of our history studies for years to come.  This one CD has over 80 books for reading levels up to high school–at a retail price of $19.99 that is only a quarter per book, not to mention that each book is available in multiple formats!  There are books I can just imagine my son loving when he is older that cover military history and inventors.  It's an economical choice–both financially and in terms of space on our already-full bookshelves.
Check it Out for Yourself:
The Heritage History website is full of information–lists of all their books, their library and curriculum CDs, more on their philosophy and even suggested courses of study.
If you decide it would work in your homeschool, Heritage History has a special offer for my readers.  Until December 31st you can get the Early America library CD (regular price of $19.99) for FREE with the purchase of any of their curriculum CDs (regular price of $24.99).  Simply add a curriculum CD and the Early America CD to your shopping cart and enter the discount code SCHOOLRM at checkout and the cost of the Early America CD will be deducted. 
I received the CD for free for the purpose of reviewing it.  These opinions are my honest thoughts after using the product in our homeschool.  As an affiliate I receive a commission from Heritage History when you use the discount code.