Our Thankful Tree
Our favorite decoration for the Thanksgiving season is our Thankful Tree.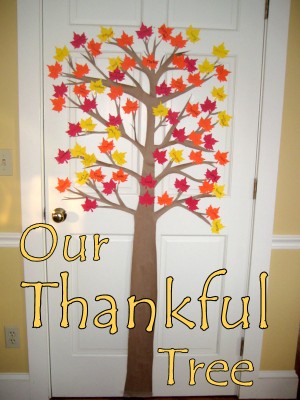 I made the tree from brown craft paper that comes on a roll.  I taped a piece onto a door in our main living area and sketched a tall tree.  Don't worry, it's easy–I used this tutorial for how to draw a fall tree from Art Projects for Kids, minus the leaves!  I covered the sketch with contact paper before cutting it out so I can reuse it year after year.  I simply tape it to the door and we're ready to add our leaves.
For leaves we use leaf shapes I cut out with my Cricut.  If you don't have a Cricut or similar paper cutting device, there are lots of other options: have your kids cut out leaves (hey, just call it fine motor skills practice), buy a leaf paper punch at a craft store, and I've also seen packets of silk and paper leaves for decorating and bulletin boards at craft and dollar stores.
Every night at dinner we each write something we're thankful for on a leaf and add it to our tree. Our leaves usually include everything from family members and our health to Legos and coffee.
We started doing this a couple years ago and it has become a cherished tradition.  It's a way to focus on all we have to be thankful for during the Thanksgiving season, not to mention a reminder of our blessings before the season that encourages kids to think of lists of wants.