Nature Study ~ Trees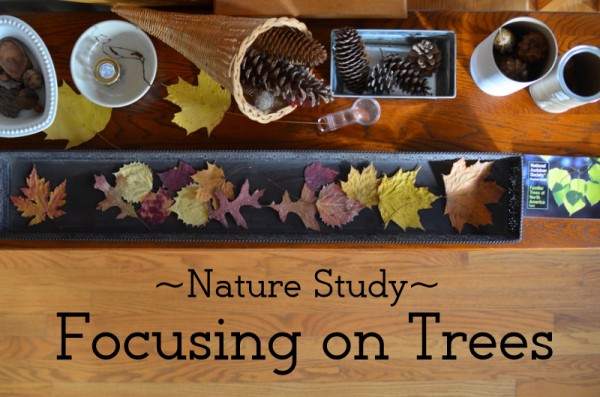 I wrote about how we kicked off our nature study focus on trees by writing poems about trees.  Since then we've been learning a lot about trees and I still feel like we're just beginning!  I set up our nature table with any tree-related specimens and books and we added more cones and leaves throughout our study.  (Just a side note: I keep boxes in our basement for nature items and only display the ones for the nature topic we are focusing on.  Rotating what we have out keeps it more interesting.)
Leaves
One of Barb's posts from a couple years ago on Seasonal Tree Observations linked to a great printable for leaf shape and arrangement.  It is one of those things I'll add to my binder and try to learn but I have to reign in the urge to download my brain into my children.  Charlotte Mason cautions against talking at your kids so much in nature that you take away their chance to experience it and see what they are interested in.  (Here's an older post of mine about stepping back when we're in nature with some advice straight from Ms. Mason.) If I focus on learning the information myself I can answer questions and teach vocabulary in context as we marvel at the things we see.  The author of the Handbook of Nature Study states it this way:
The child should never be required to learn the name of anything in the nature-study work; but the name should be used so often and so naturally in his presence that he will learn it without being conscious of the process." ~Anna Botsford Comstock
We'd been enjoying Maine's beautiful foliage displays so our first quest was to understand how and why leaves change colors in the fall.   We watched a short video from the Maine Department of Conservation about the changing colors in leaves.  We brought some brilliant yellow leaves in and examined them with the stereoscope and microscope.  The kids drew as a way to record what they saw.  This quote from my son illustrates why I love using a hand lens, stereoscope and microscope when we can: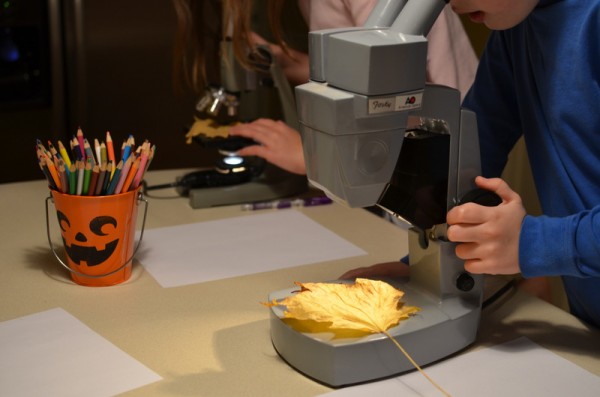 "I didn't know leaves were so interesting!"
We learned about another timely aspect of fall: there is a thin layer that forms between the leaf's stem (petiole) and the twig, allowing the leaf to drop and most importantly to kids: leading to piles like this to jump in!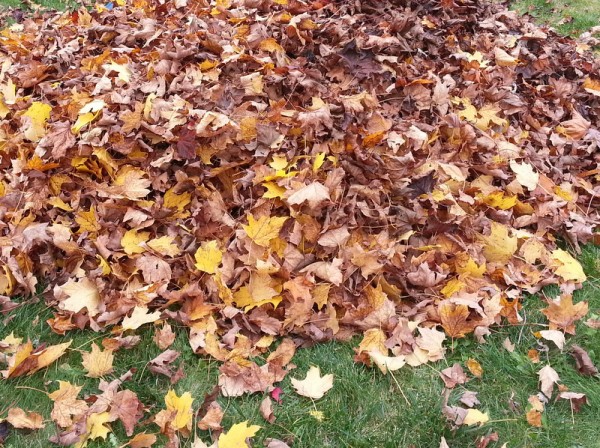 Learning about the cycles of leaves forming a separation layer, then falling off and feeding the tree as they break down into the soil, followed by new buds in place just above the scar waiting to be next year's leaves led us to take a trip around the yard to see these signs of years past, this year, and years to come on our own trees.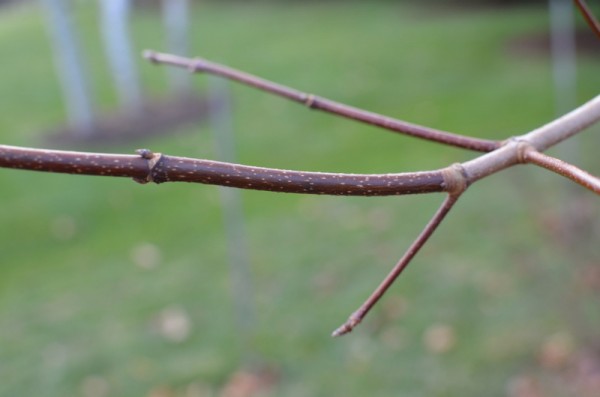 With the excitement of brilliant fall leaves we focused on deciduous trees initially, so then it was time to move onto evergreens. We made our annual trek to the Christmas Tree Farm and our studies continued with a beautiful specimen right in our living room!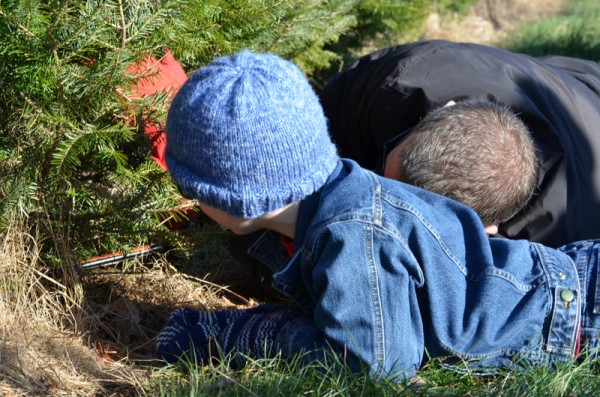 Flowers, Seeds and Cones
I'll look forward to revisiting this topic in the spring and early summer when the maple trees in our yard bloom, but fall was a great time to study cones and acorns.  We were able to get a good look at two different types of cones and one variety of acorn.  I grabbed cones from the ground under two backyard trees and placed them in empty cardboard containers so the kids could watch the transformation and see the treasure inside a cone.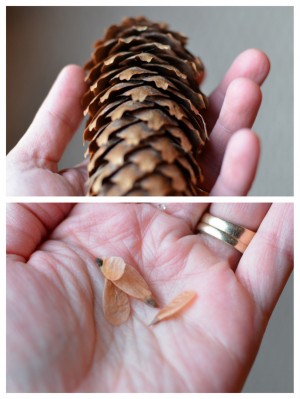 Bark
The bark looked incredible under the stereoscope.  We read in one of our books about how bark was like skin to protect the tree, but since it doesn't stretch it looks wrinkled and peeling and has cracks.  That is how the tree expands as it grows!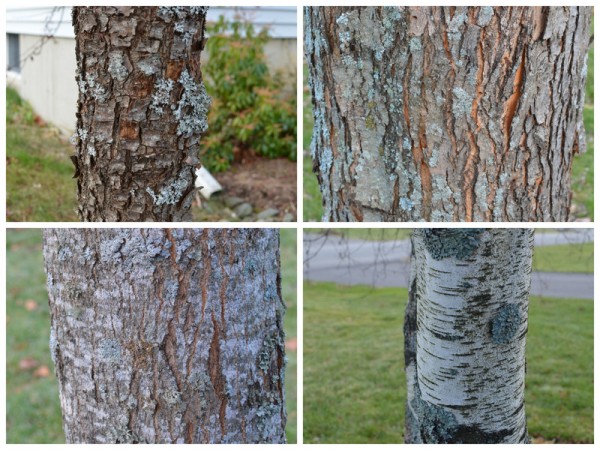 Roots
We took a couple hikes during the month to enjoy time in the forest.  It gave us a good chance to observe some root systems of trees that have fallen.  My son said this one looked like a dinosaur with a large eye and mouth coming out of the ground!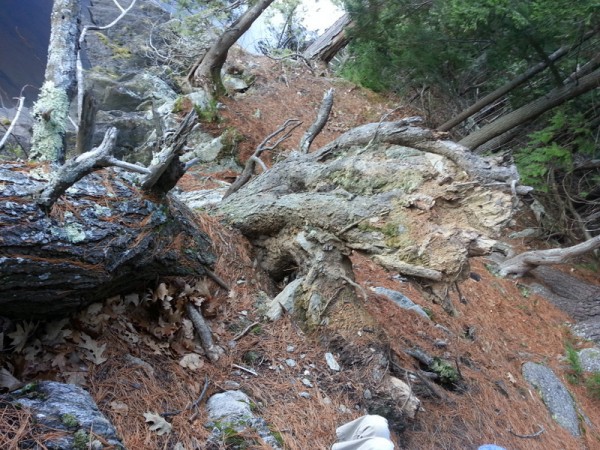 Trees just seem to spark the imagination.  This tree immediately gave my daughter an idea for a story, with the cut branch being a secret keyboard to access an underground world.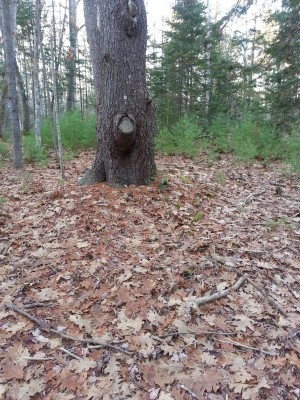 Identification
Our neighborhood is relatively young, and many of the trees in our yard (21 to be exact!) have been planted by me in the past 5 years.  I've been working to identify those that were already planted.  My plan is to make our own field guide beginning with the trees from our yard (Outdoor Hour Challenge #7).  We were inspired by a local homeschool family who showed us their leaf collection and this post from Brandy at Half-a-Hundred Acre Wood.  She includes a free printable notebook page to identify and record the tree and a leaf sample.
Luckily I'd collected and pressed leaves from a few trees this fall.  I want to include actual leaves and seeds when possible, and photos of items like cones and bark.  We'll have to continue this project once there are leaves to be seen outside in Maine…like next May.  Commercial field guides are a wonderful resource, but there is great value in making your own book of things you have right outside your door.
After we learn a little about our different trees we'll choose one for a year-long study.  We'll probably start with the large spruce that forms part of what my kids call their "secret hideout" with it's large drooping branches.  Barb has a helpful post with ideas for a year-long seasonal tree study and I also like this post that will persuade you of the benefits of studying one tree over the course of the four seasons.
Book and Internet Resources:
The Handbook of Nature Study: the resource for all our nature study, used as a reference for me (not a read aloud).
Barb at The Handbook of Nature Study Blog continually inspires me to study nature with my kids.  She has a great reference page with links to many of her tree studies (both specific trees, parts of trees, and seasonal ideas) and a free download.
National Audubon Society Pocket Guide: Familiar Trees of North America East: I like this small, colorful field guide.  For each tree there is a sillhouete to show the overall shape, a full page photo (not drawing) of the leaves, and a small close-up of the bark.  My only complaint:  I wish it had a photo of the cones or seeds for each tree.
I came across a great book at our library that I'll be adding to our collection, though it is only available used.  Inside and Outside Trees by Sandra Markle is filled with beautiful photos and easy to understand explanations.  This was a perfect read aloud: just a couple pages at a time and then we'd look for the things we read about during our outside time.  It helped the kids have lots of "a-ha" moments when they found a leaf scar or something else they could recognize from the pictures in the book.
Eyewitness Books: Trees is another reference we used.  When you can't observe everything up close and personal in nature the gorgeous photography in the DK Eyewitness Books is a good stand-in.
An online guide to the parts of a tree: this has some of the same information from the printable in Barb's post (on leaf shape and arrangement), but also has nice graphics for tree shape, twig structures, and the different types of flowers, seeds and cones.  It does not give you the identification, but helps you learn about the structures used in identifying trees.  That way if you read details about a tree's stipule scars, incised or pinnately compound leaves, or drupes you know what on earth to look for.
The online guide from the Arbor Day Foundation called "What Tree is That?" is the best resource I've found for identifying a tree.  It is so easy to use: just answer one question at a time to arrive at the identification.  My kids enjoy using this with me as I ask them the questions and they tell me which choice on the screen applies to the tree we're looking at.  We used this to identify our Christmas tree as a balsam fir.
I always try to find a few related picture books for fun.  This time we're enjoying: Christmas Tree Farm by David Budbill, an illustrated picture book of a Robert Frost poem called Christmas Trees, and Arbor Day Square by Kathryn O. Galbraith (which also ties into our history studies–it's about the beginning of Arbor Day out on the prairie in the 1800′s).
Now our nature table has been cleared off to make room for our Christmas Village.  Our homeschool runs pretty differently during December.  Over the next couple weeks I'll be sharing how we focus on the holiday and still learn a lot.  And then looking ahead in our nature study we'll start a focus area on birds in January.  That way we'll be ready for our second year participating in the Great Backyard Bird Count!