Cold Winter Days Were Made for Reading
The high temperatures in Maine this week have been in the single digits.  Brrrrr.  We've done most of our at-home schoolwork near the gas stove.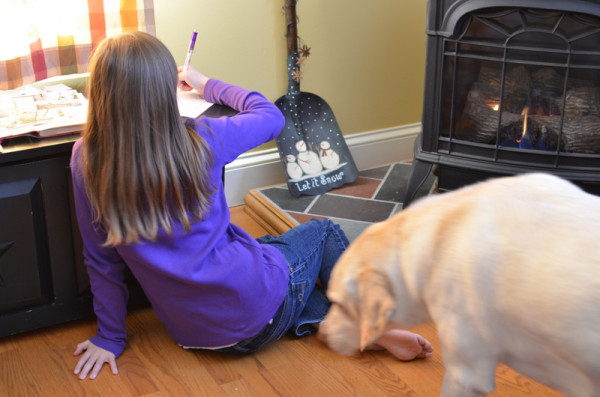 Though we don't love this kind of weather we remembered to be thankful we live in much more comfort than Laura Ingalls did in The Long Winter.
In our homeschool this week…
We celebrated Marlin Luther King, Jr. using suggestions from Mary at Homegrown Learners.  The Netflix documentary was fabulous and I highly recommend it for all ages.
Both kids were able to complete their full week of individual work for the first time since before Christmas!  Between the holidays and then illnesses we'd had such odd schedules.  This week the basics (reading, writing, arithmetic) were done and done well each day.  That was a good feeling.
The rest of our learning was all about reading aloud.  Quality literature is always our base, and subzero temperatures make for perfect reading time.
Places we went and people we saw…
Though the cold temperatures made me want to hibernate we had a lot of places to go this week.
Daddy took the kids on a radio station tour that turned out to not be as technical as my kids were hoping for.
For my daughter's book club they attended a talk by author Jennifer Richard Jacobson.  It was full of great information about being a writer, and how even as a professional author you have to make lots of revisions.
Our homeschool geography club meeting was about Russia.  My son presented on the volcanoes in Russia and its location on The Ring of Fire.  My daughter shared about Matryoshka dolls.
We paid a visit to the orthodontist.  Good news–no one needs braces right now!  My pocketbook heaved a sigh of relief.
Things I'm working on…
I'm trying to gather and organize everything to send off to my accountant to prepare our personal and business taxes.  Anyone else out there buried in paperwork?
Thank you to the wonderful hostesses with link-ups on Fridays. Be sure to join the fun and see what other homeschoolers are up to!