An Aerial View of History With Brimwood Press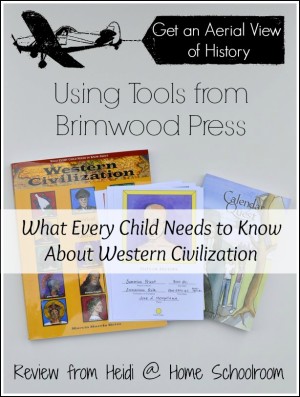 I've always had a terrible sense of direction.  In fact, I can get lost coming out of a store at the mall.  However, I find if I look at a map first to get the aerial view I understand the layout better and can remember where I've been and where I'm going.
This summer my children and I got the aerial view of history! We had focused on American history in the last two years and planned to begin Ancient history this fall.  With perfect timing Brimwood Press offered me the chance to review What Every Child Needs to Know About Western Civilization.
Disclosure: I was given the curriculum materials from Brimwood Press free for review.  This post details my honest opinion after using these materials with my children.  I was happy to become an affiliate for Brimwood Press because I feel they produce a quality product for homeschoolers. 
A Unique Approach to Studying History
This isn't your ordinary history curriculum.  Most programs are designed to take you through history and give a detailed look at time periods, civilizations, and the famous people of the past.  Brimwood has created a product that is designed to do just the opposite: give you a quick overview (they call it a "jet plane ride") of 5,000 years of history in about a month.
It isn't just different because of how quickly it moves through history, it also takes the unique perspective of following the developments in our western calendar through the time periods.  According to Brimwood Press:
By learning the story of the calendar, children develop a mental scope and sequence of 5,000 years of Western history to which all subsequent learning can be related."
Why is a quick overview of history important?
I'm a big fan of getting lost in a time period.  In fact, we immersed ourselves in pioneer times for a whole school year and loved it!  But just like looking at one small section of  map makes it hard to understand how to get from one area to another, spending long periods of time on one major period makes it hard to connect how contributions from one time period affect the future and the relationships between civilizations.
I wouldn't want to spend all our history studies learning at this jet plane speed, but for getting an overview the speed is the key.  Understanding the ways history has shaped our own culture actually makes our in-depth history studies feel more relevant.
What Every Child Needs to Know About Western Civilization Prepares Students for Timelines
I'm ready for my children to start compiling a historical timeline of their own (or, for Charlotte Mason homeschoolers, a "Book of Centuries").  This program was a great way to help my kids understand how we'll be setting up our timeline notebook.
What timelines can do for children is to provide a framework into which they can put pieces of knowledge as they learn them.  For this framework purpose, timelines should be very simple–so simple that children can memorize them." Ruth Beechick in You Can Teach Your Child Successfully
The key historical periods memorized using the Hats of History cards is just that–a simple framework for my children to assist in future learning.  Now as we go back and learn about the Sumerians and Egyptians, the Dark Ages and the Renaissance, they understand the overall road map and can see where we've been and where we're going.
What Do You Need For What Every Child Needs to Know About Western Civilization?
Required Materials:
What Every Child Needs to Know About Western Civilization is the teacher's guide and student activity book in one.  It contains all the historical information and activities, along with perforated cardstock pages for the Hats of History Cards and stickers for the back of the Hats cards.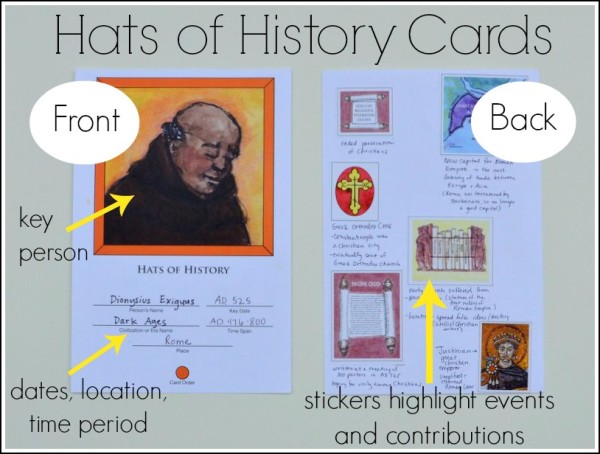 Calendar Quest is a historical fiction book in which two children reluctantly end up time traveling with Father Time.  He's rather grumpy that people don't understand the amazing calendar so he takes Lindsie and Evan on a trip through time to see how it developed.
Optional Items:
Color the Western World is a beautiful large size coloring book with one page for each time period.  This would be nice to keep a child's hands busy while you read and be a good review tool as well.  My children don't enjoy coloring pages, so I merely put this out for them to look at while we worked through the lesson.
What Did I Like Best About Brimwood Press' WECN?
The Hats of History Cards were my favorite part of the program.  As you go through the lesson you add stickers for major events, people, or contributions from that time period.  I wrote small notes beside the stickers so we can use these cards for review.  I love the resource they become: 14 cards covering major time periods with a color photo of a key figure, the dates and location, and important details.  Before each lesson we made a game by covering the dates so my kids had to put the cards in order from memory.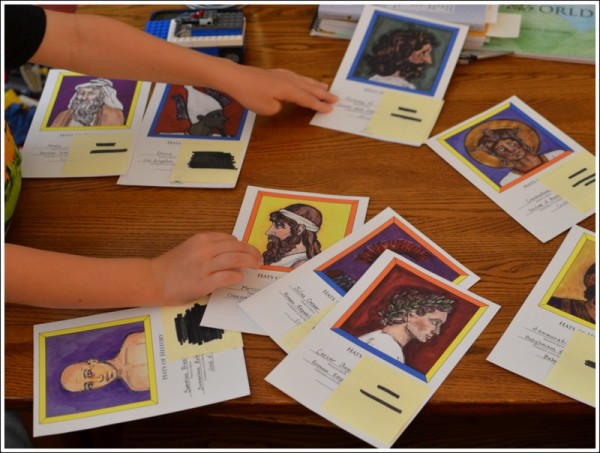 The program is flexible.  It's meant to be covered in about a month, but you can move a little more slowly.  For our relaxed summer schedule it took about two months.  (Note: this is not designed to be used at the same time as other history studies.  It would defeat the fast-paced design.)
It works for a range of ages.  Though the intended age group is grades 5-8 it's easy to bring younger children along.  My son enjoyed the Calendar Quest story and the hands-on component of the Hats of History cards and stickers.
It's a keeper.  This entire product is worth keeping on my shelf.  The guide is a great reference book for major events and contributions of historical periods.  Calendar Quest is a book my children could enjoy in their free reading time.  And I foresee going through this program again when my son is in the intended age range.  My daughter would then be in high school and I believe would benefit from this quick overview to strengthen her understanding of the flow of history.
Was There Anything I Didn't Like About WECN?
I was going to complain that the maps for each lesson are not full page and in order to use them you must photocopy them from the guide which made it difficult to get a good copy of maps near the binding edge of the page.  But nevermind, because now Brimwood Press offers the maps in a free download on their website!  (Just scroll down the page for the pdf link.)
This complaint is more of a personal preference, and is something my kids actually enjoyed: many of the historical characters in Calendar Quest are presented as a bit…silly.  Cleopatra is more focused on her cat than what's happening, Charlegmane is obsessed with making fur accessories from Lindsie's guinea pig, and Pope Gregory just wants his lunch.  While it makes for an entertaining read I did reiterate to my kids that I thought many of these people were probably quite serious about the topics at hand.  That being said, I still found the book to be filled with historical information and my children were very engaged in the story.
Are You Interested in Learning More?
If you think your history study could use an aerial view, head over to the Brimwood Press website and check it out for yourself.  There you can learn more about their products, view sample pages, and get ready for your jet plane ride through history!