An (Almost) Spring Homeschool Journal
We've made it to the first day of spring–at least according to the calendar.  In Maine we're accustomed to waiting a little longer for true spring, but this year it seems especially hard.  Possibly because everything outside is still covered in snow.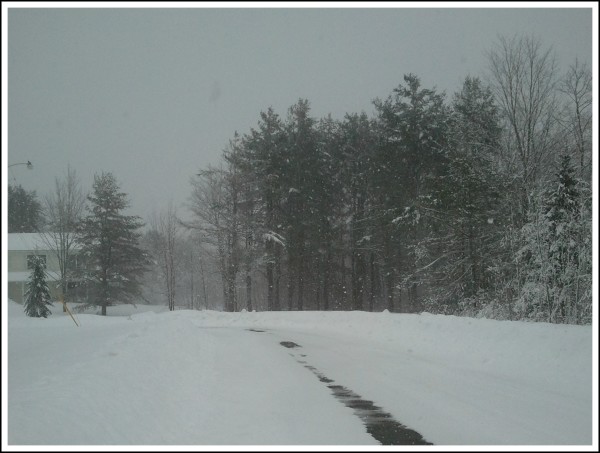 It has been a cold, blustery, icy, snowy winter.  I know, that's a lot of adjectives.  This winter is worthy of many words.  Yet I trust that spring is coming.  After all, we enjoyed Maine Maple Sunday, a spring ritual.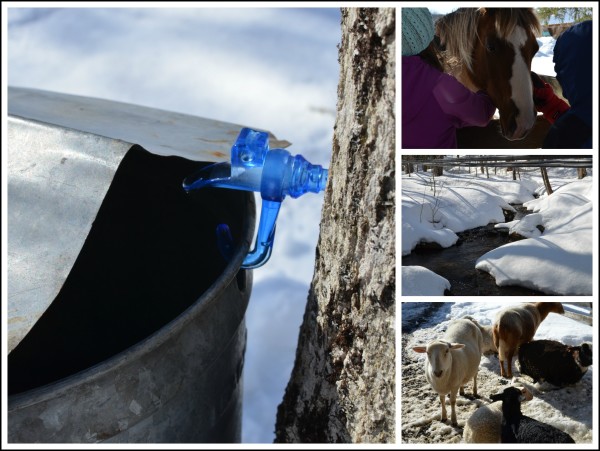 And the goldfinches are losing their dull winter color for vibrant yellow.  What happy little birds!  It's worth all the seed I buy to see the first spots of bright yellow–the first sign of spring color outside my window.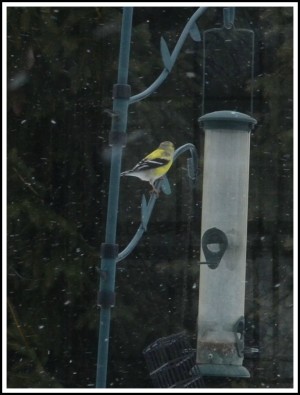 Despite having to hibernate too often, we're living a full and engaging life.  Lately my children seem to grow before my very eyes, and I'm trying to soak them in and enjoy them.  Many days I fail and go to bed frustrated with the day or myself, but each day is a new beginning.
Here's a smattering of what we've been up to:
Reading
We've treasured wonderful read alouds together.  Our favorites this year have been Heidi and The Secret Garden.  I've also been reading more books myself (much better to get lost in a book than lose two hours online).  I savored Pride and Prejudice and now I'm delighting in James Herriot's All Creatures Great and Small series.  Sometimes I giggle out loud when I'm reading and have to read a section to whoever is nearby.  I'd allowed my personal reading to fall by the wayside far too long.  It's back on my priority list because I enjoy it and I'm modeling something I want my children to do: read what is lovely and nurture your intellect even when it isn't a school requirement.
Art
Something about me being more relaxed actually has us accomplishing more.  Does that make any sense?  There seems to be more time for beautiful things like art.  A weekly favorite is Sketch Tuesday from Harmony Fine Arts.  Barb gives a topic, we sketch something related to that topic, and then she makes a slideshow of everyone's drawings. We usually watch our slideshow during Tea Time.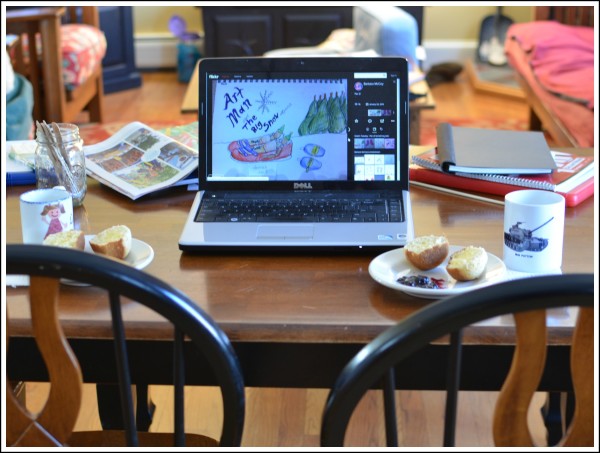 We've also enjoyed the free art videos by posted on the Rainbow Resources blog and made a trip to a fine art museum.  Our highlight was seeing a painting by Renoir.  We couldn't help but stand close and think how he had stood in front of that very same painting putting on the finishing touches.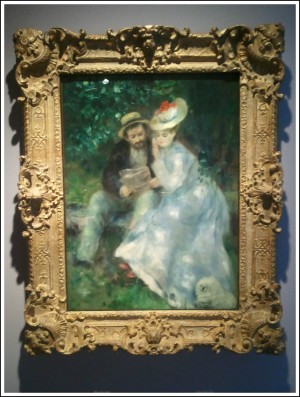 Fun
You must break up the winter doldrums with a little fun.  We celebrated our third annual 100th Day of School.  This year I kept it a surprise and the kids were delighted on a Monday morning to see this: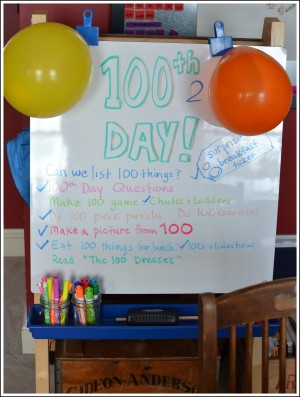 We also celebrated Dr. Seuss' birthday by reading old favorites and some still new to us.  We topped it off by reading Bartholomew and the Oobleck and making oobleck.  Messy but oh-so-fun!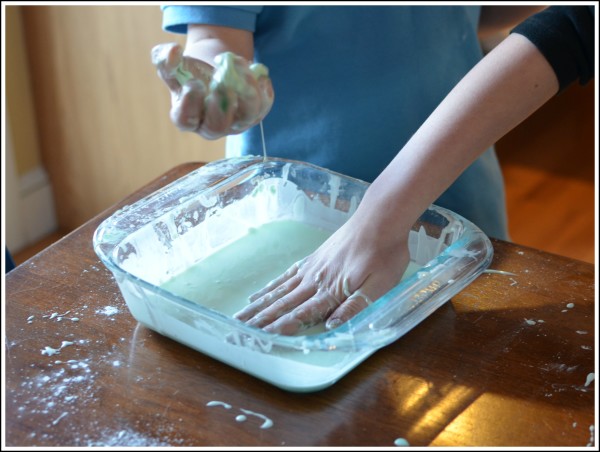 Busy Hands
My son has been engaged in building with Lego robotics.  I'm so thankful my budding engineer and technology fanatic has a daddy who understands and enjoys working with him.
My daughter crochets like crazy! It's the first craft she's taken up that I know nothing about.  She and I learned to knit together, but it didn't spark her interest like crochet.  I'm thrilled with her independence.  My mom and my friend Tina (thank you, ladies!) are available for occasional consult, but otherwise she is using books and online videos.  I use Pinterest and browser bookmarks of reliable websites with embedded videos as a safe way for her to browse and find instructional videos and patterns.
Homeschool Mom Inspiration
Have you visited Sarah at Amongst Lovely Things?  Her series on Teaching from a State of Rest shares great thoughts (as does her blog in general) on cultivating the souls of your entire family and enjoying your homeschool life.  I'm also working through the resources on her Listen Up! page where she links to audio lectures and videos.  Those are turning my cold winter-time dog walks into a mini homeschool convention!  My favorites so far are: Teaching Boys and Other Kids Who Would Rather Be Building Forts All Day, Incorporating Liturgies in the Classroom (absolute favorite), and Memorization and the Soul.
Basically I'm finally REALLY understanding that the most important thing about homeschooling isn't my organized schedule, my fancy unit planning, what curriculum I choose or what test scores my kids achieve.  The people are the priority.  That includes these little people entrusted to my care to raise to adulthood, and me, too!
I am relieved to be nearing the end of March far more content than last spring.  I continue keeping strong limits on my time in front of my computer, and that helps me be happier, more engaged in relationships around me, and maybe even have a tidier house.  Not that you're hanging on my every word, but that explains the infrequent posting!  I still enjoy writing when I have something to say and the mental space to write in complete sentences.  Thanks for taking your time to visit.
I'm linking up at these places, where you can find other homeschool bloggers sharing their activities and inspiration: