A Week Filled With Good Things
This week was filled with easing back into our full time schedule and extracurricular activities after the flu.  We made time for afternoon rest and early bedtimes, and continued lots of cozy reading aloud.   In fact, this week felt very in tune with Charlotte Mason's philosophies.  I am by no means an expert, but our homeschool does feel full of good things when I implement her methods.  We enjoyed good books, poetry, nature study, and composer study.
What books are we enjoying right now?
We flew through Little Town on the Prairie and feel the impending sadness of the time when Laura's story won't be part of our days.  My daughter has asked if we can just start again at the beginning.
American History Stories from Heritage History.  (That's a selection from the Early America CD, which you can receive for free if you purchase any other CD and use the discount code SCHOOLRM until January 31st.)  This series is giving my kids (and me!) a good overview of the time period we're studying while allowing us to spend more time on major events.
The Burgess Bird Book for Children is part of our nature study focus on birds.  The stories are fact-filled and the personalities of each bird we meet keep it engaging.
We just started The Cricket in Times Square for our homeschool book club…it's also very engaging so far and leads to cries of "You can't stop there!"
I shared poems from A Small Child's Book of Cozy Poems all week.
Nature study goes to the birds
Our nature study is deepening as we become more and more intrigued by birds.  There are three reasons for our increased interest:  we're gearing up for the Great Backyard Bird Count in February, we've seen new birds at our feeders, and we've been watching nest cams!  On these down days requiring a little extra rest we've watched this hummingbird nest cam in California and this eagle cam in Florida and been fascinated by the lives of these two (very different) bird families.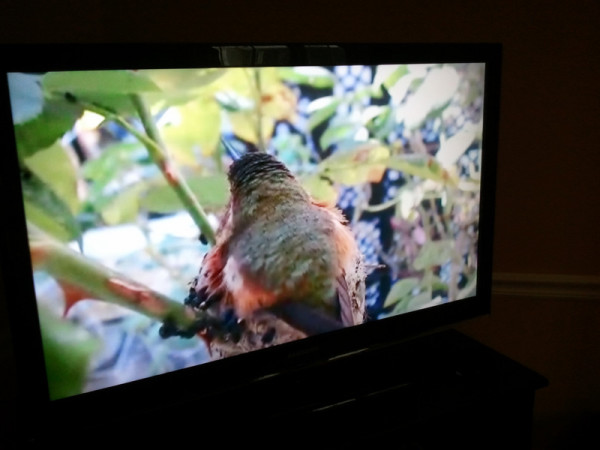 Obviously in nature study the goal is to be out in nature in direct contact with the items you are studying, but these live streaming videos enable us to watch events that would be impossible otherwise.  We've watched the baby hummingbirds politely excrete wastes over the edge of the nest, how often the momma has to feed those babies and how she does it.  We exclaimed as we watched Daddy eagle drop off a fish for his eaglets and their mom.  The interest spurred by watching these bird families led to checking out more books at the library!
I had my children pick their favorite from our backyard birds and create a notebook page this week.  I love setting them free to notebook as they choose and watching them make the work their own.  You can download a free coloring book from Cornell with great line drawings.  I like the images but not the questions, so they colored the image, cut it out, and pasted it onto their notebook page of choice.  Then they added the details that interested them.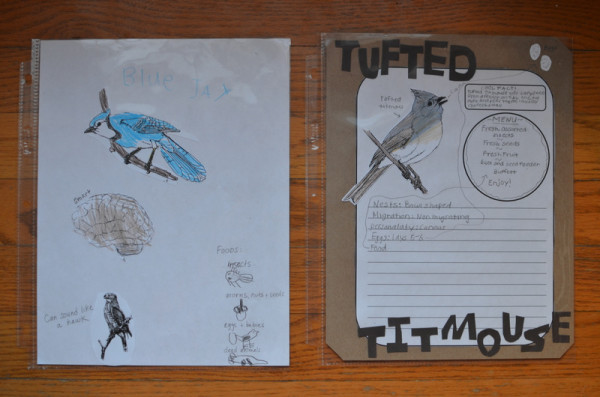 Composer study and our first try at SQUILT
In Harmony Fine Arts our composer of the month is Mozart.  We listen to his music during quiet time each day.  I've been wanting to try the SQUILT technique from Mary at Homegrown Learners and have them really focus on a piece of music. (This post explains the basics of Super Quiet UnInterrupted Listening Time.)  She posted a new SQUILT lesson on Mozart yesterday so it was the perfect time to try it.
SQUILT was a great addition to our fine arts studies using HFA!  I plan for SQUILT to become a regular part of our week using one of the songs from our composer of the month.  Mary's downloadable SQUILT form was a perfect fit for my ten year old piano-lesson-loving daughter, but I gave my son a sheet of plain paper to draw on.
Mary's advice on younger or more wiggly children–to allow them to move around during the music and draw on plain paper–was helpful for my seven year old son.  If I said "You must sit still and not move and then write words on this paper in these squares" I would turn his happy, open attitude about our classical music studies into dread.
I did learn one thing with our first go-round: my silly son wanted to make faces (albeit to the tempo) to entertain his sister, so we'll be facing opposite directions or have our eyes closed next time!
And just for fun…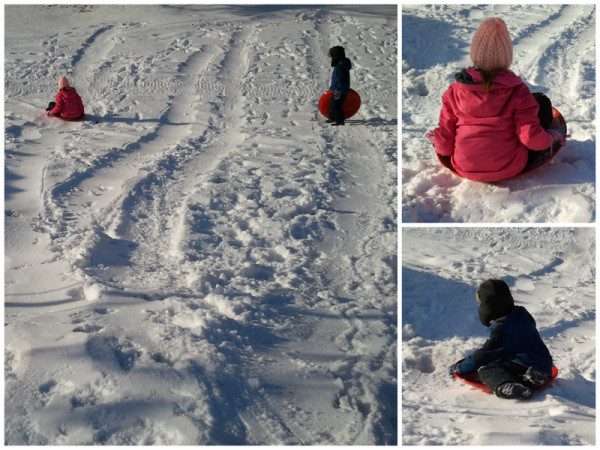 The week ended with a little fun in the snow.  I dare an adult to watch a kid flying down a hill on a saucer sled and not join in.   I had to jump on a sled and try it out…I laughed the whole way down but I think I'll have bruises to show for it!
In case you missed it:
I shared a spur-of-the-moment simple hands-on math activity with odd and even numbers.  The concept and vocabulary clicked for my seven year old.  (You know, that same little boy that made faces during our classical music selection?)  He loves (and needs) hands-on learning and asked to play the same odd-even game several times this week.
Thank you to the wonderful hostesses with fun link-ups on Fridays. Be sure to join the fun and see what other homeschoolers are up to!