10 Unexpected Benefits to Homeschooling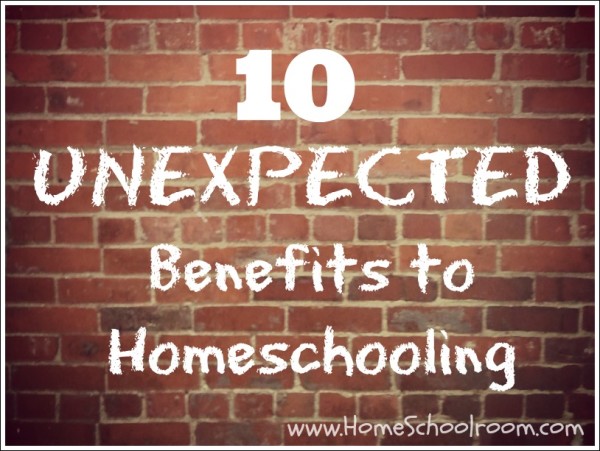 Before I started actually homeschooling I had dreamy visions of how it would go.  I shared now slightly humorous visions and the reality of homeschooling.  So if it isn't the perfect scenario I envisioned, why do I still homeschool?  Because the good outweighs the bad by a ton.
The basic benefits I hoped for when researching homeschooling have held true: lots of family time together and a tailored education for both my children.  But there are even more benefits than I had anticipated.  It's not to say that I hadn't thought of some of these, but the degree of delightfulness had been unexpected.
#1. I hadn't realized the full impact of not only lots of time together but all this shared learning.
I was hoping homeschooling would strengthen our family bonds, but it has had an unbelievable affect on our family culture.  We're always reminding each other of funny stories or using quotes from books we've read together.  So many more of our memories are shared memories.  I especially see this having a great impact on the relationship between my kids since we read aloud and study many subjects together.  Being a boyish boy and girly girl three years apart, learning together gives them helpful things in common:  often they spend free time reenacting a wagon train, a story about Cleopatra, or something else we've been studying.
#2. I know what my kids have been learning.
When my daughter was in school I got the report of the day by looking over her papers or whatever she happened to remember to tell me (which was often more about the social aspects).  But as their homeschool teacher I know what they've been studying.  I can tie prior knowledge into something else we're doing.  When we're at a lighthouse and the man starts talking about the remains of a fort that was once occupied by the British I can tie that in to things we've studied!
#3. The flexibility is amazing!
Okay, I did look forward to the flexibility of homeschooling before we started, but the number of ways in which it benefits us surprised me.  My early riser does his best focused schoolwork early, so we can schedule his work accordingly.  If it's hot we get outside early in the day, not take recess at 12:30 even if it's 80 degrees then.  We can hike on a nice Thursday and finish schoolwork on a rainy Saturday.  We can go places when they aren't as busy.  If any or all of us is just having one of those tough days we can take a break and reboot.  The kids have more time with their Dad (who works irregular hours) and even their grandparents.  We just can be flexible (and often still learning!) while we're sick and not worry about how soon I can send them back to school.
#4. My kids are being better prepared for taking care of themselves and a home.
My kids are learning and doing more household chores because they are home a lot.  (That isn't to say that my home is cleaner than before homeschooling because, well, we're home a lot and make a lot of messes!)  But instead of rushing off in the morning and returning in the evening to see a stocked fridge and laundered clothes in a tidy house, they are there all day.  They run to the store with me, we fold clothes together while reading, and we all participate in household chores.  They are seeing the responsibilities of adults and learning to do them right alongside me.
#5. There's less pressure to keep up with a culture that, quite honestly, has its priorities messed up.
My kids don't beg to watch the latest television show or video game.  There is less "got to have it" pressure because they aren't trying to fit in with peer groups that they have to relate to for hours each day.  Other than this being helpful for our pocketbook, I find it lets the real purpose of the day shine: LEARNING!  Working at home the real focus is what we're studying, not the social pressures of the class or distractions from all the other stuff that goes with a group of same age kids in a room with one teacher.  We don't have to sign up for every extracurricular activity and be running on all our evenings and weekends.  I don't have to spend money on the lists of requested items from the school, or become a fundraiser or peddler of goods to raise funds for field trips.  I don't drop my kids off to then volunteer my time photocopying or keeping order in the lunchroom.
#6 We're learning to dare to be different.
I still remember the first few months of telling people we were  going to homeschool.  The good news is, it's easier after two years.  We've all learned to be more comfortable being different and that can be a very good thing.  Very often the right thing isn't the popular thing, so this is a life skill that will help my kids make good choices down the road.
#7. We have more time to focus on the seasons and holidays.
This one may seem less serious, but it's no less enjoyable!  We structure our school year so we can focus on Christmas for all of December.  We celebrate family rituals that bond us together and help us remember the reason for the season.  Other than Christmas we also can appreciate the flow of the seasons from the cozy days of winter reading by the fire, to the first time we feel real warmth from the sun in spring.  We can continuing our learning while still enjoying Maine's short but glorious summer.  Fall is my favorite season, and I am happy each year that we enjoy all the crisp beauty together, instead of jumping back in to running around and spending hours apart from each other.
#8. My life is enriched beyond measure as I learn alongside them.
I was one of those students who knew what I needed to do to get good grades, but couldn't wait to be done college so I could stop all this studying (especially when I knew I would forget things right after the test).  I am so very lucky that I get to learn all the good things I missed and I feel I've discovered my love of learning.  I love enjoying wonderful books that I missed along the way and getting a chance to reread old favorites.  But then there's nature study, and realizing how much wonder I was simply walking by on a daily basis.  Meeting the great masters of art and music and appreciating the beauty of what they created is a new joy for me.  I've become engrossed in our history studies, even though it was one of my least favorite subjects in school (because I couldn't remember names and dates).
#9. I am there for deep conversations.
You can't always plan heart-to-hearts.  Being together a lot means I'm there when the mood strikes or the topic arises that leads to a weighty discussion.  Topics that get us talking come up during Bible reading, watching the news, studying history, reading great books…or sometimes just making lunch or walking around the neighborhood.  Having an abundance of time together and interacting together much of that time often puts me in the right place at the right time to connect with my children on important issues.
#10. I'm growing as a person.
I've shared about the lessons I'm learning through homeschooling.  Being together and working together all the time is like sandpaper on all our rough edges.  I'm hoping it's like a rock tumbler and we'll all come out more beautiful in the end.
 Hop over to iHomeschool network to read more unexpected benefits to homeschooling. Every Tuesday for the next 10 weeks I'll be participating with the other bloggers of iHN in a blog hop of top ten lists.
This blog hop series was inspired by Angie of Many Little Blessings where you're welcome to link up, too!